Tritonia pickensi
Photographed by Tracy Clark at La Jolla Shores, July 1998

---
Tritonia pickensi Marcus & Marcus, 1967

El Niņo years can sometimes yield exciting new treasures from the south, venturing into warmer than usual northern wathers. The summer of 1998 marked the end of a warmer than average period that had begun the summer before. Divers from San Diego to the Channel Islands, California, noticed an abundance of previously unseen small white Tritonia which was spawning and feeding on a red gorgonian. Several specimens were collected and sent to the author for identification by George Spalding III . They proved to be Tritonia pickensi which were even more mature than those used for the original description by Marcus & Marcus in 1967. This species has been found at Bahia de los Angeles and other sites throughout the Gulf of California but until now was thought to be endemic to the Gulf.
Tritonia pickensi is a small ( to 18 mm) transluscent white animal with a wide central, opaque white band. This band has a small opening just behind the rhinophores, and the edges are scalloped, expanding towards each gill and contracting between the gills. There are 7-13 gills with distinct stalks per side. Each gill subdivides into 2-3 branches at least twice, sometimes three times. The sheathes of the rhinophores have 1-5 projections and the clavus has 5-12 vertical projections, which may bifurcate, surrounding an elongate central tip. The rounded veil is flanked on each side by attached, long narrow tentacles and it bears an additional 2-7 processes.
This species can be distinguished from the equally small Tritonia myrakeenae Bertsch & Monqueira, 1986 by the fact that the latter is creamy orange or brownish with a few white patches or streaks, has smooth rhinophore sheaths and gills on an undulatiing margin which have only one series of 3-5 divisions. More similar in color is Tritonia festiva (Stearns, 1873). This species reaches a length of 70 mm, but small ones can be distinguished by the fact that the opaque white is in reticulate lines and circles, rather than a solid band on the dorsum. Tritonia festiva has a smooth rhinophore sheath and the veil is bilobed and flanked by wider, grooved tentacles. Internally the first lateral teeth of T. pickensi are denticulate, but they are smooth in both the other species.
The original description was conducted on specimens with a living lenghth of only 7mm collected from Puerto Penasco and Guaymas in the northern Gulf area. The species was named for Dr. Peter E. Pickens, who along with Mary Anne Hill collected the specimens.


Sandra Millen
Vancouver, B.C.
Oct. 2001


---
Opening Photo courtesy of Tracy Clark
Taxomonic information courtesy of Sandra Millen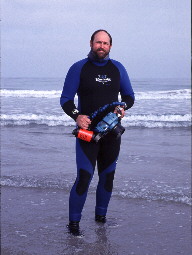 Tracy Clark was certified in 1986, a month after being certified he rented a underwatercamera in Hawaii and was hooked. His occupation is equipment operator. He dives mostly San Diego areas, plus a few trips to Hawaii. He has placed in the PCUPC photo contest, and also the San Diego Unions Nature and Eye photo contest. He has had photos published in the Pacific Diver magazine and also Espacio Profundo. Tracy is a past U/W Photographer of the year in the San Diego UPS. You will find him at La Jolla Shores almost every weekend.

This nudibranch along with three others of the same type, was photographed at La Jolla Shores at about 55 feet deep on the canyon wall, at La Jolla Shores. This photo was taken with a Nikonos V, 1-1 macro, and dual MCD strobes, film Fuji Sensia 100.

Send Tracy mail at aclark@cts.com



Webmaster's Notes: I would like to acknowledge the input from other "regulars" at the shores such as Steve Gardner who advised me as to the presence of the "new kid on the block" the summer of 1998. And also to Drs. Alan Grant and Marc Chamberlain who recorded its presence both in video and in still form in the Channel Islands during that same time period. To Dr. Hans Bertsch for additional information and pictures from Bahia de los Angeles in the Gulf. It was also during this time period that the Panamic arrow crab (Stenorhynchus debilis) and trigger fish were observed at the Shores. The red gorgonian (Lophogorgia chilensis???) is still there buts its transient predator Tritonia pickensi is long gone. Yes, the summer of 1998 was exciting times for U/W photographers.
---



Sandra Millen

Department of Zoology
University of British Columbia
Vancouver, B.C., Canada, V6T 1Z4
Phone (604) 822-2087; Fax (604) 822-2416
Send Sandra E-Mail at millen@zoology.ubc.ca
or visit Sandra's home page



Sandra is pictured at third from left along with Dave Nesheim (LAUPS), Alan Grant (aka the diving dentist), and Mike Miller (webmaster) taking a break between dives at Nanaimo, British Columbia during a field trip to British Columbia in September of 1998.
---
© The Slug Site, Michael D. Miller 2001. All Rights Reserved.






---