Phyllodesmium briareum
White Beach,Moalboal, Cebu, Philippines
Jun 2001
Photo courtesy of Erwin Kohler

---
Phyllodesmium briareum (Bergh, 1896)

Phyllodesmium briareum is one of my very favorite phyllodesmids because I also know right where to find it. Like other species of Phyllodesmiumi, it feeds on soft corals and it can usually be found on Solenopodium stelleri, Briareum stecheri and Pachyclavularia violacea. You really have to look close however as it is very well camouflaged when crawling over or nestled between the polyps of the coral colony. Photos of these species can be found in Gosliner, Behrens & Williams, (1996) Coral Reef Animals of the Indo-Pacific.
The species 'trivial' name is derived from the soft coral Briareum on Rudolph Bergh first collected it.
P. briareum is one of several species which has a symbiotic relationship with zooxanthellae . The brownish colored specks on the animals body are one-celled plants, or zooxanthellae which are held in the aeolid's digestive gland. Within the tissue of the nudibranch they continue to grow, reproduce and carry out the process of photosynthesis, providing nutrients to the host.
Specimens are about 25 to 30 mm long, and have long slender, curved cerata which have a yellow tip. One might imagine that this yellow tip would house nematocysts, or stinging cells removed from the coral polyps, but this is not the case, as unlike most most aeolid genera, Phyllodesmium does not.
This species is known from throughout tropical western Pacific.


Dave Behrens
Danville, Calif
Aug. 2001

---
Photo Contributor:
Erwin Kohler
Erwin at the Maldives, 1999

Mike asked me to write about my experiences with digital photography, so here we go.

I started photography 37 years ago, with a view-finder camera, some years later I continued with a reflex camera and several lenses. This step was as large as the step from reflex camera to digital photography. Now I am working with a NIKON 990 in a SEALUX housing CX990 and a subtronic ALPHA PRO MACRO flash gun.

Digital photography or not?
If you want to use your photos for lectures, slide shows or large prints , then digital photography is presently not the solution. But, if you want to look at them on your monitor, post them at your website or print them as small posters (20 x 30 cm), digital photography is the answer, because:


-you can exercise photo quality control during the dive (the camera has a zoom button in the play function, with this help can you check if it is exactly in focus), if not, change what you did wrong and repeat it. Afterwards (during the dive or later) delete what you do not want to keep. No more weeks of waiting for the results! This feature is especially useful in the event you find a rare specimen!

--Digital cameras have the capability of more shots beyond the 35-37 frame limitation of many SLR cameras, depending on the size of your chip and the quality you choose, for example: 128k chip, quality basic 325, normal 165 and fine 83 shots (remember, only good shots, no more garbage). I recommend several small chips (64k), they are much cheaper than one large one (in Germany). You can download the photos to your laptop (if you want to take it with on holiday) or use several chips (much less weight and very much cheaper as a laptop)

-you can use the chip very often, after downloading the photos (on laptop or at home)

-you can do all kind of shots: from tele-macro (slugs) to wide angle (wrecks), in very high quality with only one lens

--camera and housing weight little and are pretty small

--digital cameras need very little light, but I recommend a good flash gun with pilot light, you can do shots without flashlight, but all colours will turn to blue... If you use the 990 in an housing you must turn the internal flashgun off!

-you can use all functions of the camera with the SEALUX housing under water!

All those of you that have worked for many years with a reflex camera will need some time to get familiar with the COOLPIX 990. Almost everything must be programmed with the menu or other functions. I recommend at least one week training (not only dives) and rtfm (read the f&*% manual).

One last hint: It lasts a little moment when you press the release until the photo is really done, this is different from reflex cameras. During this time the monitor turns into black, so you can't see, what you are pointing to at this very moment. My hint: look before pressing the release through the view-finder.

The above photo was digitally enhanced:

--I changed the size from 1024 x 768 pixels to 900 x 600 pixels, because 3 x 2 is the format for prints in Germany. For Mike's Slug Site the size was reduced to 750 X 500 and the brightness was optimized



Erwin Kohler
Darmstadt, Germany
Aug. 2001



Send Erwin e-mail at Medslugs.Koehler@t-online.de



Webmaster's Note I want to take this opportunity to thank Erwin for sharing his digital experiences with us. Erwin has made the transition to digital and the results speak for themselves. I was especially impressed with Erwin's Tambja olivaria presentation as a BOW a couple of weeks ago, I suspected then that Erwin had gone digital because he was able to capture colors on an animal most films based cameras would have problems with. The Tussey Proline system I now use will be the last film based U/W system for me. I really like the Nikon F3 but the estimated $300 in film costs per dive trip is beginning to hit home compared to the costs of going digital after the upfront costs are absorbed. My output requirement is the same as Erwins, basically an RGB presentation so why am I spending all this money on film???? I recently purchased an inexpensive Toshiba digital camera and a not so inexpensive laptop to go with it! Really having fun with it and looking forward to getting a housed digital camera underwater!


---
Taxonomic information courtesy of: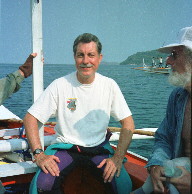 David W. Behrens
Author: Pacific Coast Nudibranchs
Co-Author Coral Reef Animals of the Indo Pacific
Propriator of Sea Challengers Natural History Books

Send Dave mail at seachalleng@earthlink.net

---
© The Slug Site, Michael D. Miller 2001. All Rights Reserved.

---