Dendronotus diversicolor
Courtesy of the Webmaster
San Miguel Island, California



---
Dendronotus diversicolor Robilliard, 1970

Dendronotus diversicolor is very similar in external anatomy to Dendronotus albus featured in a previous Branch of the Week. Both have a white phase, while the more common body is that shown here, both have a white line down the tail, both have white and orange tipped gills, rhinophores and frontal veil processes. When Gordy named this species he intended the species name to draw attention to the variability in color.
The easiest way to distinguish these two closely related species is to count the number of paired gill tufts. Dendronotus diversicolor has 4 while D. alba has 5-7 gills.
Specimens may reach 50 mm in length and are found geographically from Ketchikan, Alaska south to Point Loma, San Diego County.
This beauty isn't very common, but divers have recently observed fair numbers of individual of this species at Wilson's Rock, San Miguel in the Channel Islands.


Dave Behrens
Danville, CA
Aug. 2001

---
Taxonomic information courtesy of Dave Behrens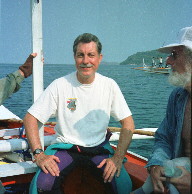 David W. Behrens
Author: Pacific Coast Nudibranchs
Co-Author Coral Reef Animals of the Indo Pacific
Propriator of Sea Challengers Natural History Books !
35 Versailles Court
Danville, CA 94506
E-Mail - info@seachallengers.com
FAX - 925-736-8982
Voice Mail - 925-327-7750
Send Dave mail at seachalleng@earthlink.net

---
© The Slug Site, Michael D. Miller 2001. All Rights Reserved.

---