Nembrotha guttata (?)
Moalboal, Cebu, Philippines
May 2001
Photos courtesy of Erwin Kohler

---



The Red Spotted (c.f.) Nembrotha spp. Dilemma

This week I'm going to stick my neck out and discuss a species complex receiving a lot of rhetoric lately but very little scientific method.

Erwin Koehler's critter shown above first appeared on page 246 of Coral Reef Animals of the Indo-Pacific photographed on a branch of the bryozoan Bugula dentata (Species # 899). At that time we thought the species was Roboastra rubropapillosa. Over the past months there have been numerous submissions to Bill Rudman's Sea Slug Forum of similar red spotted Nembrotha-looking species. Only recently, Bill has decided to take the leap of faith and tentatively lump this critter, and a number of other red-spotted Nembrotha-like species in with a species described by Nathalie Yonow in 1993 as Nembrotha guttata. Roboastra, Nembrotha, wow these are completely different critters. Roboastra's feed on bryozoans and species of Nembrotha eat ascidians (sea squirts), usually colonial species. Internally the differences are distinctive. It seems to me like its time for some extensive examination of the internal anatomy. Erwin, Terry Gosliner, Clay Carlson and Mike Miller have all collected many specimens in the Philippines that follow the basic external coloration shown here in Erwin's photo and in Coral Reef Animals. The body is black with scattered orange-red pustules all over. The color of the gills and rhinophores seems to vary from green to black.

Specimens of these red-spotted critters have measured up to 53mm in length. Collections have been made and photos taken in: Moalboal, Cebu Island and in Anilao, Batangas Province, Philippines and from Yonaguni, near Taiwan and Anami Island near Okinawa.

Nembrotha guttata was described from a single animal, and in an aquarium magazine, not a refereed scientific journal. Rudman states that "it is fortunate that ...we have a number of photos showing enough color variation to allow us to match this variable animals with her description." Although I too am guilty of describing a new species based upon a single specimen myself, this is a good example of how dangerous it is to name new species on a single animal, when you have no idea about its variability, or the benefit of peer review.

I may be a little off base here but I think its time to put away our computer key boards and get out the scalpels and start cutting. That's really the only way we'll solve this one.

Erwin's photos provide us some interesting insight into this beautiful species biology. I invite you visit Erwin's Medslugs site to sample the many terrific species profiles he offers. Of even more value is Erwin's List of the Opisthobranchs of the World where you can go to find virtually every photograph of sea slugs on the internet today. I use it daily and cannot thank Erwin enough for the time and energy he puts into keeping this valuable resource current.

Thanks from all of us Erwin.



Dave Behrens
Danville, Calif
Jul. 2001


Reference:
Yonow, N. (1994) Opisthobranchs from the Maldive Islands, including descriptions of seven new species (Mollusca: Gastropoda). Revue fr. Aquariol., 20(4): 97-130.

Webmaster's Note: For a time longer than I care to remember at the present time, an animal somewhat similar in appearance to Erwin's animal has been listed on my site as Nembrotha cf. livingstonei . Based on updated information the animal surely is not Nembrotha livingstonei and could be a juvenile form of what is loosely being referred to as Nembrotha guttata. We have seen this animal a number of times in the Philippines but never as large as that recorded by Erwin in the Cebu area of the Philippines. Dr. Rudman has remarked that comparsion by color photographs has a potential downfall, but for many of us it is the only avenue of getting a handle on what we are dealing with. Dave is certainly correct in observing the need for an in depth taxonomic look at this animal.



By coincidence, Bob Bolland is also featuring Nembrotha guttata on his Okinawa Slug Site this week. Don't miss Bob's excellent presentation! Evidently this animal really gets around!

---
Photo Contributor:
Erwin Kohler
Darmstadt, Germany
Erwin at the Maldives, 1999

I started diving and underwater photography in 1989. First equipment: Nikonos V, SB 103 strobe, several Sea&Sea close-ups. With the years I specialized in macro photography - since summer ´96 nothing but sea slugs (in German I´m called "Nacktschneckenjaeger", i.e. slug-hunter) and flatworms (for Wolfgang Seifarth's Marine Flatworm Page). In November 1996 I sold my equipment except the flashgun and bought a new one: NIKON F 90 X with NIKON 105mm micro-lens, SEALUX housing and SUBTRONIC MEGA flashgun, SB 103 is used as slave. In March 1999 I tested how much time it takes to get the housing full of water (7 seconds)...Now I'm working with another F 90 again, a 90mm TAMRON macro lens and a SUBTRONIC APLHA MACRO as slave flashgun.

Send Erwin e-mail at Medslugs.Koehler@t-online.de
---
Taxonomic information courtesy of: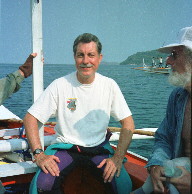 David W. Behrens
Author: Pacific Coast Nudibranchs
Co-Author Coral Reef Animals of the Indo Pacific
Propriator of Sea Challengers Natural History Books

Send Dave mail at seachalleng@earthlink.net

---
© The Slug Site, Michael D. Miller 2001. All Rights Reserved.

---