Tambja olivaria
Tambja olivaria
Pescador Island,Moalboal, Cebu, Philippines
May 2001
Photo courtesy of Erwin Kohler

---
Tambja olivaria Yonow, 1994


This species was recently described by Nathalie Yonow from the Maldive Islands. She describes the species as characterized by its dull 'olive' (hence the name) green background color and pattern of black and orange-yellow markings. The black and yellow pattern is quite variable but consists of a yellow band that runs a round the anterior end, inside the dark green edge. This line then runs back along each side to join behind the gills, and may be broken. There are a pair of black patches just behind the rhinophores. The raised rhinophoral pocket is yellow with a black edge. The club of the rhinophore is black. The gills are yellow on the outer face with black lamellae. There are traces of a yellow submarginal band around the edge of the foot.

Erwin's animal shown here from Moalboal, Cebu Island, Philippines, lacks much of the yellow markings described by Yonow, as does the photograph in Nubibranchs and Sea Snails by Debelius, page 183. Originally described in an aquarium magazine, the species is based on a single specimen and a few photographs taken throughout the Maldives.

Erwin's specimen is 62 mm in length. He found the specimen on the same arborescent bryozoan (Bugula dentata ) as Yonow's description indicates. Being a good guy Erwin did not handle the specimen so we cannot verify whether his animal exudes green pigment when touched or produces an acid like burns, as also mentioned in the magazine description.

Erwin's specimen extends the distribution previously thought to be restricted to the Maldives further east into the Indo-Pacific adding the Philippines as a locality.


Erwin's photos provide us some interesting insight into this beautiful species biology. I invite you visit Erwin's Medslugs site to sample the many terrific species profiles he offers. Of even more value is Erwin's List of the Opisthobranchs of the World where you can go to find virtually every photograph of sea slugs on the internet today. I use it daily and cannot thank Erwin enough for the time and energy he puts into keeping this valuable resource current.

Thanks from all of us Erwin.



Dave Behrens
Danville, Calif
Jul. 2001


Reference:
Yonow, N. (1994) Opisthobranchs from the Maldive Islands, including descriptions of seven new species (Mollusca: Gastropoda). Revue fr. Aquariol., 20(4): 97-130.
---
Photo Contributor:
Erwin Kohler
Darmstadt, Germany
Erwin at the Maldives, 1999

I started diving and underwater photography in 1989. First equipment: Nikonos V, SB 103 strobe, several Sea&Sea close-ups. With the years I specialized in macro photography - since summer ´96 nothing but sea slugs (in German I´m called "Nacktschneckenjaeger", i.e. slug-hunter) and flatworms (for Wolfgang Seifarth's Marine Flatworm Page). In November 1996 I sold my equipment except the flashgun and bought a new one: NIKON F 90 X with NIKON 105mm micro-lens, SEALUX housing and SUBTRONIC MEGA flashgun, SB 103 is used as slave. In March 1999 I tested how much time it takes to get the housing full of water (7 seconds)...Now I'm working with another F 90 again, a 90mm TAMRON macro lens and a SUBTRONIC APLHA MACRO as slave flashgun.

Send Erwin e-mail at Medslugs.Koehler@t-online.de
---
Taxonomic information courtesy of: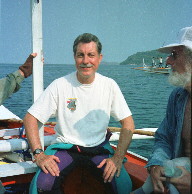 David W. Behrens
Author: Pacific Coast Nudibranchs
Co-Author Coral Reef Animals of the Indo Pacific
Propriator of Sea Challengers Natural History Books

Send Dave mail at seachalleng@earthlink.net

---
© The Slug Site, Michael D. Miller 2001. All Rights Reserved.

---