Peltodoris lancei
Photograph courtesy of the Webmaster
Photograph taken at Bahia de los Angeles, Baja California, Mexico July 1997

---
Peltodoris lancei Millen & Bertsch, 2000


Nudibranch taxonomists often appear to spend a lot of time lumping species together (synonymising them) under one name, usually the oldest. Often this is because what are now known to be color varieties were given different names, or an animal found in a different ocean, or area, was called something else. At times, these errors were the result of the original descriptions being poor or overlooked. With all this synonymising going on, it is a pleasant surprise to find what was thought to be one species, turn out to be two.

I was collecting yellow porostome nudibranchs in Bahía de Los Angeles on a trip with Hans Bertsch and the webmaster, Mike Miller. My purpose was to try and sort out the then undescribed yellow-gill porostome, now named Doriopsilla gemela and another species, known variously as Dendrodoris fulva or Doriopsilla albopunctata, but now synonymised together under the name Doriopsilla albopunctata. (see Gosliner, Schaefer & Millen, 1999). We had already noticed that Doriopsilla albopunctata tended to be darker and more orange in the Gulf than on the outer coast, so we were pleased, but not suspicious when Mike Miller collected two dark reddish orange specimens with white spots. It was only afterwards, when the specimens were examined as they relaxed in magnesium chloride that warning bells began to ring. These animals had long, finger shaped ( digitiform) oral tentacles. Porostomes not only lack a radula, they have only the barest traces of oral tentacles. Therefore these animals were not porostomes and probably had a radula. Subsequent dissection confirmed the presence of a radula. Closer examination revealed that these animals had a harder, more depressed body than the porostomes and small conical, white-tipped tubercles.

Now that we had a new species, the obvious place to put it was in a paper we were already writing describing Trapania goslineri and Peltodoris mullineri . Both of these species were named after prominent, contemporary nudibranch researchers from California who are familiar with the nudibranchs of the Gulf of California and both of whom had worked with and learned from another nudibranch researcher, Jim Lance. It seemed only fitting that we gave this third, new species a name to honor Jim, who taught us all so much about the Panamic nudibranchs he has discovered, and continues to discover and photograph in 40 years of enthusiastic research.



Sandra Millen
Vancouver, B.C.
Dec., 2000



Reference's:

Gosliner, Terrence M., Maria C. Schaefer & Sandra V. Millen. 1999. A new species of Doriopsilla (Nudibranchia: Dendrodorididae) from the Pacific coast of North America, including a comparison with Doriopsilla albopunctata (Cooper, 1863). The Veliger 42(3): 201-210.

Millen, Sandra V., and Hans Bertsch. 2000. Three new species of dorid nudibranchs from southern California, USA, and the Baja California peninsula, Mexico. The Veliger 43 (4): 354-366.

---
Photograph courtesy of Wes Farmer and Jim Lance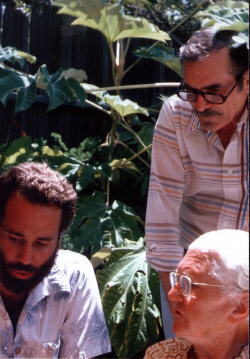 Jim is pictured at upper right with Jeff Hamann and Eveline Marcus at Jim's patio laboratory in Pacific Beach, circa 1984. Jim's observations on Bahia de Los Angeles (L.A. Bay) are as follows; "..it is a wonderful place to collect/observe nudibranchs. L.A. Bay can provide for the discerning-that is professional 'branchologist to graduate Ph. D. candidate-or the interested tide pooler.."

Jim joined the staff of Scripps Institution of Oceanography as Staff Research Associate in 1953 and retired in 1994. Among his main duties was the isolation and mass culture of various marine invertebrates and phytoplankers for population dynamics and pigment structure.

Along with Joan Steinberg he was one of the first to organize opisthobranch field trips throughout the Sea of Cortez (Gulf of California), Mexico and along the Mexican mainland oceanic islands (Revilla Gigedos).


Jim can be contacted by snail mail at: 746 Agate St., San Diego, CA 92109-1039

---



Sandra Millen

Department of Zoology
University of British Columbia
Vancouver, B.C., Canada, V6T 1Z4
Phone (604) 822-2087; Fax (604) 822-2416
Send Sandra E-Mail at millen@zoology.ubc.ca
or visit Sandra's home page



Sandra is pictured at third from left along with Dave Nesheim (LAUPS), Alan Grant (aka the diving dentist), and Mike Miller (webmaster) taking a break between dives at Nanaimo, British Columbia during a field trip to British Columbia in October of 1999.
---
© The Slug Site, Michael D. Miller 2001. All Rights Reserved.

---