Cuthona longi
Photo courtesy of Jeff Hamann of El Cajon, Calif
Specimen photographed at Isla Raza, Bahia de los Angeles, Baja California



Cuthona longi Behrens 1985

This is one of my favorite nudibranchs for two reasons. First, it was the first species I described from the very extensive collections of Jeff Hamann, of El Cajon, California, and second, because it is named for old friend and fanatic Brancher, Steve Long. Steve of course has been the energy and patience behind the Opisthobranch Newsletter for over 30 years.

Jeff first collected this aeolid species in 1982 in 3.2 m of water at Isla Raza, off the coast of Baja California. Specimens measure up to 32 mm in length, making this a fairly large member of the genus, Cuthona.
Our webmaster thought it appropriate to celebrate this holiday season with this species as the Branch of the Week, because of its festive Christmas tree colors, having green ceratal cores with red, gold and blue ornamented tips (see drawing for details of the ceratal colors). The cerata are arranged in approximately 13 rows.

Cuthona longi was the first member of the genus Cuthona to be described from the Gulf of California. Little is known about this species, which apparently has only been collected at Bahia de Los Angeles. It most likely feeds of the branched plumularid hydroid, on which it was found laying its egg ribbon.
| | |
| --- | --- |
| | As shown here, the egg ribbon shown here was about 2.5 mm in diameter. The ribbon is made up of neat repetitive rows of egg capsules, radiating from the center of the crescent whorl. There are approximately 18-20 egg capsules per row and 50 rows per ribbon. |
To me this species exemplifies the Christmas Holidays, not only because of its colors, but also the true holiday spirit of giving, first Jeff to me, and then, me to Steve. Your webmaster and I now share this pretty little creature with you. We hope this adds to your Holiday Cheer and your appreciation of the diversity and beauty of this group of marine animals.

Happy Holiday


Dave Behrens
Danville, Calif
Christmas, Dec. 2000



Citation(s):

Behrens, D.W. 1985. A new species of Cuthona from the Gulf of California. Veliger 27(4):418-422, color photo, figs.

Behrens, D.W. 1985a. Cuthona longi Behrens, 1985. Shells & Sea Life 17(5):156.[N]

---
Steve Long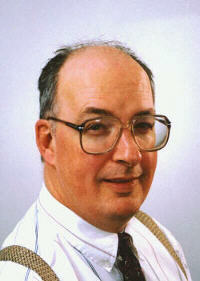 Born in California, raised in Edmonds, Washington, on Puget Sound. Lots of tidepooling and fishing from the beach. Age 12 to Germany for a year, age 13 to England, age 14 to France and age 16 back to U.S.A. and Long Beach, California on the Pacific Ocean. I quit high school at 16 and joined the Air Force just after I turned 17. Almost 4 years at Vandenberg Air Force Base, visiting Lompoc, Surf and Pismo Beach plus travelling up and down the coast on Highways 1 and 101. Out of USAF and to Douglas Aircraft, Long Beach, California as an electronics tech. 18 months later I had my scuba diving certificate and was diving and tidepooling along the southern California coast and was the silent partner in an aquarium store.

Somewhere along the way I met Don Cadien in the small "great tidepool" at Palos Verdes where we argued over a Chromodoris macfarlandi I found. He eventually got the specimen preserved. Some weeks later I was back at Vandenberg AFB as a civilian instrumentation technician and tidepooling whenever I could. I joined the Western Society of Malacologists and in 1969 founded the Opisthobranch Newsletter with Richard Roller at one of the meetings.

I took 6 month sabbatical to finish 2-year AS degree at Cuesta JC. Back at work for a couple of years where I was working midnight shift, driving 1000 miles per week, attending school almost full time in biology, had a wife and 3 kids, publishing the Opisthobranch Newsletter monthly by myself as Dick Roller had moved to Iowa.

Four years later I graduated from Cal Poly, SLO, with a biology degree, still working at Vandenberg. I left and took a job in Santa Clara, California doing microfilm production and continuing with the ON. Eventually moved into sales and eventually retired to work full-time with seaslugs. Met Sally, moved to Phoenix for 2 years and then brought her back to Eureka to publish and sell books. Eventually opened a bookstore in Arcata. After a total of about 5 years we moved to Olympia, Washington and opened a bookstore there.

A year later we moved to Seattle and got into real estate sales. Four years later we put the Opisthobranch Newsletter on the internet and have published electronic and paper editions since then. For the last few months I have been concentrating on bibliography and will continue with that. Sally and I live in Richmond Beach, Washington, just north of Seattle and overlooking Puget Sound and the Olympic Mountains. We are both working at Keller Williams Realty Everett where we are part owners of the new market center.

The Opisthobranch Newsletter, published almost monthly 1969 through 1983, volumes 1-15. For the first fifteen years I corresponded with branchers around the world. All of the news and bibliography came from correspondence and reprints and library searches. Shells & Sea Life volumes 16 through volume 21, 1984-1989 attempted to expand to a full color magazine format.

Volume 22 (1996) and following are again Opisthobranch Newsletter published monthly on the internet (http://www.seaslug.com) and on paper. Gary McDonald has been searching the electronic abstracting services and sending me the results. These are combined with the reprints sent to me and the many years of citations from the Opisthobranch Newsletter to total over 14,000 references to opisthobranchs. Seaslug.com links to opisthobranch resources around the world including links to over 4,000 opisthobranch illustrations maintained by Erwin Köhler in Germany.

Happy Holiday Greetings!




Steve Long
Richmond Beach, Washington
Christmas Dec. 2000

---
Taxonomic information courtesy of Dave Behrens

---
© The Slug Site, Michael D. Miller 2000. All Rights Reserved.

---