Trapania goslineri
Photo courtesy of Dr.Hans Bertsch
Aquarium photograph of specimen collected at Bahia Tortugas, with egg mass

---
Trapania goslineri Millen & Bertsch, 2000


With the publication of "Three new species of dorid nudibranchs from southern California, U.S.A., and the Baja California peninsula, Mexico" (The Veliger 43: 354-366), by Sandra Millen and me, it is appropriate to revisit a past Nudibranch of the Week. Now you will know the rest of the story!

After posting our unnamed Trapania sp. as BOW for Week 38, we did not hear from any of you who peruse this site. However, we had sufficient material to name this exquisite little slug in honor of our friend and colleague Dr. Terrence M. Gosliner.

On 29 June 1987, at Punta la Gringa, Bahía de los Angeles, he had collected the specimen that Sandra and I designated as the holotype. That collection was on a trip that Sandra, Terry and their families, and I had made to BLA just after the 20th Annual Meeting of the Western Society of Malacologists, which had been held in San Diego. It was a memorable expedition for numerous reasons. It was hot (107 F) and very windy at night. Sven and Sandra had "vanned" their little boat all the way from British Columbia. Some of us stayed at the newly built and $15-per-night Mini Hotel Hamacas, while others were at the bourgeois Villa Vitta. While we were cooking breakfast in front of the Mini Hotel, a fellow walked into town and asked if I would use my jeep to pull his van out of the sand. I wanted to finish breakfast first, but he said his wife and children were still out in the sand with the van. The pilgrims needed rescue! I did.

Slugs we collected on that trip included the Trapania, an unnamed genus of tritoniid, Chelidonura polyalphos, Phidiana lascrucensis, Phestilla lugubris, Tylodina fungina, et al.

Back now to Trapania goslineri. Its limaciform soft body has a pair of curved lateral processes beside the gills, and another lateral to each rhinophore. The maximum length of living individuals we encountered was 15 mm.

The ground color is white, with large, black oval spots and streaks. Golden orange spots grace the tips of the three bipinnate gills and the rhinophores.

This very rare species has been found in the intertidal and shallow subtidal zones at Isla Cedros and Bahía Tortugas (in the Punta Eugenia region), Cabo San Lucas (Baja California Sur), and inside the Gulf of California at Bahía de los Angeles. In my on-going 6+ year study at BLA, this species represents less than 0.2% of the opisthobranch population.

Trapania velox (Cockerell, 1901) can be easily distinguished by its color pattern of five black lines instead of oval spots, and it has a longer tail. Internally T. velox has fewer rows of teeth (22-32 versus 37-41) with one or no denticles external to the cusp instead of two. The bursa copulatrix has a serial arrangement rather than the short common duct found in T. goslineri. Although Trapania velox is primarily allopatric in distribution to Trapania goslineri (occurring more northerly), there is a slight area of overlap on the Pacific coast of the central portion of theBaja California peninsula (Isla Cedros and Bahía Tortugas).

We do not know what this species eats; many individuals were found on an orange sponge, 11 and 12 mm long; illustration of one specimen , 12 mm long; both are in situ underwater photographs taken at Punta la Gringa, BLA.



Hans Bertsch
Imperial Beach
Dec. 2000



Reference:

Millen, Sandra V., and Hans Bertsch. 2000. Three new species of dorid nudibranchs from southern California, USA, and the Baja California peninsula, Mexico. The Veliger 43 (4): 354-366.
---

Webmaster's Note: I had the recent good fortune to dive with both Terry and Garry Williams of CAS at Tulamben, Bali, Indonesia. Terry and Garry were among the many notables that came to Tulamben after attending the international Coral Reef Symposium held in Bali this October. We had a great time chasing slugs and other unusual invertebrates. Terry and Gary put together an overview of this trip, that can be seen on the CAS webserver.

---
Text courtesy of Dr. Hans Bertsch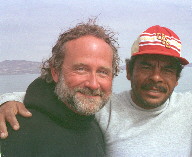 Dr. Hans Bertsch

Assoc. Prof.
Dept. of Math and Natural Sciences
National University
192 Imperial Beach Blvd. #A
Imperial Beach, CA 91932
FAX (619) 423-9118
Send Hans E-Mail at hansmarvida@cox.net

---
© The Slug Site, Michael D. Miller 2000. All Rights Reserved.

---