Peltodoris mullineri
Photo courtesy of Dave Mulliner

---
Peltodoris mullineri Millen & Bertsch, 2000


Color photographs of this species appeared in both editions of Dave Behrens' Pacific Coast Nudibranchs (1980: p. 103, by James Lance, and 1991: p. 69, by David K. Mulliner); they were both identified as unnamed species of Peltodoris. This animal also premiered on the Slug Site in its formative years. Sandra Millen and I finally named this species in the October 2000 issue (vol. 43, no. 4) of The Veliger.

This large (up to 70 mm in total length), beautiful, yellow to golden orange dorid with speckled brown blotches, has a known range from Santa Barbara and Anacapa Islands (the southern California Channel Islands) to Cabo San Lucas, Baja California Sur, México. Neither its food nor its egg mass have been identified.

We described its internal anatomy in our Veliger paper. Suffice it to say here that the radular formula is 23-24 (42-63.0.42-63). The teeth are simple hooks (characteristic of this genus and Discodorididae in general). The central area has 12-15 small teeth per side, which abruptly increase in size and remain constant until the last five to six which gradually diminish at the margin.



Hans Bertsch
Imperial Beach
Nov. 2000



Reference:

Millen, Sandra V., and Hans Bertsch. 2000. Three new species of dorid nudibranchs from southern California, USA, and the Baja California peninsula, Mexico. The Veliger 43 (4): 354-366.
---
Dave Mulliner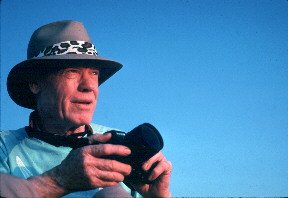 David Mulliner is a true legend. He was Sea Hunt before Lloyd Bridges. Seriously, he has been diving and studying marine life in San Diego and Baja California for decades. He has also pioneered close-up microphotography, and is the staff photographer for the San Diego Shell Club's publication, The Festivus. His charming smile and welcoming embrace have encouraged many neophytes into studying nudibranchs and other molluscs. Dave has generously supplied specimens to many scientists. He continues to share his expertise, knowledge and photographs with all who share his love of the sea and its mollusc community.

Send Dave e-mail at mulliner1@juno.com

---
Text courtesy of Dr. Hans Bertsch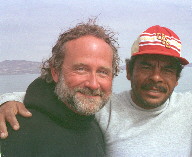 Dr. Hans Bertsch

Assoc. Prof.
Dept. of Math and Natural Sciences
National University
192 Imperial Beach Blvd. #A
Imperial Beach, CA 91932
FAX (619) 423-9118
Send Hans E-Mail at hansmarvida@cox.net

---
© The Slug Site, Michael D. Miller 2000. All Rights Reserved.

---