Hexabranchus sanguineus
Photo taken in Indonesia
Courtesy of Douglas Hoffman



---
Hexabranchus sanguineus Ruppell and Leuckart, 1828

This week we are going to revisit one of my favorite nudibranchs, one that seems to transcend all disciplines and appeals to everybody. We are of course talking about Hexabranchus sanguineus or more commonly known by those who have observed its whirling, flamboyant dance, the Spanish Dancer.
A couple of weeks ago, I was privileged to attend the first San Diego Undersea Film Exhibition featuring short video clips by local videographers. In my humble opinion, my good friend Dr. Alan Grant's spectacular "Little Sea Creatures" shared best of show honors with Ron Mullins presentation on Mantas. What was remarkable was Chuck Nicklin presenting a short clip entitled "Monsters of Beqa Lagoon" featuring giant Spanish Dancers that he and Bob Gladden put together from a recent trip to Fiji.. Chuck Nicklin taking footage of a nudibranch?? unheard of until now! Chuck was aware of his dilemma and offered the explanation that the giant Spanish Dancers were his "kind" of nudibranch, e.g. BIG! That's the star power of the giant Hexabranchus sanguines . Evidently a guide found a pair at 130 ft. of water and brought them into shallow water for all to enjoy. Visit Bill Rudman's SeaSlug Forum for pictures taken by Bruce Wight of both the animals and Chuck filming.
Years ago I was introduced to the lore of the giant Spanish Dancers during a trip to Moalboal in Cebu where a local resort owner showed us footage of a pair that also measured some two feet and had the same yellow hue and Doug's animal featured above. How many different colors does this animal come in? I am reminded of Bob Bolland's posting on Rudman's site of one with blue coloration! Years later Hexabranchus sanguineus was featured as the Branch of the Week (BOW) courtesy of veteran San Diego brancher Dave Mulliner. If you haven't seen this BOW it is worth revisiting as it depicts the spawning behavior of two giants in 140 ft. of water at the cave on Pescador Island in Moalboal, Cebu, Philippines.
Alas, your webmaster probably isn't going to experience the thrill of seeing one of these giants in person as I don't dive deep enough on a regular basis for this kind of encounter! If your are so fortunate consider it a rare gift of nature!
The BOW section of the Slug Site is going dark for a couple of weeks while I am off to Bali on a branching foray. Stay tuned for the Nov. 5th resumption when the first of three new descriptions by Sandra Millen and Hans Bertsch will be featured.


Michael Miller
San Diego, CA
Oct. 2000


---
Douglas Hoffman and lovely wife Mieko in Micronesia.

Douglas is a successful photojournalist and video maker. He has won 15 international awards for photography and been published in American, Austrailian, Asian, Japanese, and Indonesian magazines. SDJ was the first Chinese diving magazine to publish his works. Check out the nikon 2001 calander to see one of douglas's award winning shots.

An avid diver and international award winning marine photogapher, Douglas Hoffman lives in Maui, Hawaii with his wife Mieko. The couple operates Maui Photography, and offers a range of services including wedding coordination, wedding photography, family portraits, underwater photography, stock, and assignment photography.

They also lead one or two trips a year to exciting destinations in the indo-pacific. Groups are limited to 6 - 8 people. The next trip with space is a 10 - 12 day cruise on a sailing yacht to the Burma Banks. They will depart from Phuket, Thailand in early December 2001. In August 2001, they are planning another Indonesia live-aboard trip. Check out the marine photography/indonesia link at their Web Site for additional information
For information on any of the above, send Doug email at dhimages@maui.net

---
Taxonomic information courtesy of Dave Behrens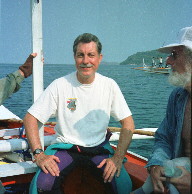 David W. Behrens
Author: Pacific Coast Nudibranchs
Co-Author Coral Reef Animals of the Indo Pacific
Propriator of Sea Challengers Natural History Books !
35 Versailles Court
Danville, CA 94506
E-Mail - info@seachallengers.com
FAX - 925-736-8982
Voice Mail - 925-327-7750
Send Dave mail at seachalleng@earthlink.net

---
© The Slug Site, Michael D. Miller 2000. All Rights Reserved.




---