Bulla gouldiana

Photo courtesy of Dr. Marc Chamberlain
Photo taken at Anacapa Island, Feb. 2000

---
Bulla gouldiana Pilsbry, 1893

This is one of the Pacific Coast cephalaspidean species with an externally visible shell. This "bubble" as they are referred to is similar to members of the genus Haminoea, but are larger and slightly more temperately distributed. Occurring from Morro Bay, in central California south to Ecuador, this species reaches over 55 mm in length.
Bulla gouldiana is a soft bottom, protected water species. Like other cephalaspids, it cruises just below the surface of the mud or sand bottom, feeding on various benthic species. The exposed shell has a distinctive pattern, and the semi-transparent mantle is brown with varying degrees of mottled bluish pigmentation.
Named after biologist Augustus Addison Gould, it is an active species as seen in Allen's video found here on the Slug Site, crawling and bulldozing for food. It is not uncommon to find large aggregations of this species mating and laying eggs.

Webmaster's Note:: For those of you that have the bandwidth, you might enjoy a short video clip of Bulla gouldiana by Dr. Alan Grant.(aka the Diving Dentist). This file is 5.8 megs and was recorded during the same trip to Anacapa Island in Feburary of this year. Click here to begin the show!


---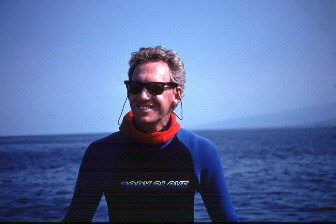 Marc Chamberlain is by vocation a neurologist and by avocation a wildlife photographer. He enjoys traveling during which he is always toting cameras. His diving holidays have been to the Carribean, up and down the west coast of the Americas and throughout the Indo-Pacific. His photographs have appeared in numerous magazines including: National Geographic; International and National Wildlife; Ocean Realm; Outside; and various Cousteau Society publications. Marc has collaborated on several books with marine biology themes. Marc was also San Diego Underwater Photographic Society Photographer of the Year six times during the time he lived in the San Diego County area. Marc has participated in thirteen consecutive San Diego Underwater Society Film Festivals which has to be a club record!

Send Marc mail at marc.c.chamberlain@kp.org
---
Taxonomic information courtesy of Dave Behrens
Photograph courtesy of Dr. Marc Chamberlain

---
© The Slug Site, Michael D. Miller , 2000. All Rights Reserved.

---