Aplysia vaccaria with egg mass
Bird Rock La Jolla, 2 Jan., 1991 and estimated to weigh 5 pounds.
Photographed in a tide pool by Wes Farmer

---
Aplysia vaccaria Winkler, 1955


It's big. Very big. Possibly it is the largest known slug on earth. Keen (1971) reported specimens to 255 mm in total length; Winkler & Dawson (1963) reported specimens up to 30 inches (75 cm) in total length. This is slime personified! In an earlier Nudibranch of the Week (BOW #33), we illustrated Eveline Marcus holding in one hand Aplysia californica Cooper, 1863, and in the other Aplysia vaccaria Winkler, 1955. She was all smiles, as one could only expect a slug-aficionada to be.

As currently known, this species has a disjunct range; it has been reported from the Pacific coast of California and northeastern Baja California, from Monterey Bay (Behrens, 1991) to Cabo Colnett (Farmer, 1967); it has also been reported from inside the Gulf of California at Bahía de los Angeles (Lance, 1967) and Puertecitos (Farmer, 1968).

This species of anaspidean slug is characterized by its large size, black body coloration, firm body, and tight apposition of the parapodia; it does not produce purple ink as does Aplysia californica (Berhens, 1991). For a slug of this size, its internal shell is correspondingly huge.

Beeman (1968) discussed Aplysia vaccaria, but did not mention A. cedrosensis Bartsch & Rehder, 1939, even though it had been cited by Marcus (1961: 10) in Part One of the Veliger volume 3 supplement. There has been some discussion over the valid species of Aplysiinae in the northeastern Pacific. Farmer (1993) cited three species of Aplysia from the southern California: Aplysia californica, A. vaccaria, and A. cedrosensis. Based on the information he presented in his talk to the Western Society of Malacologists, there is a strong possibility that A. cedrosensis andA. vaccaria are synonyms, in which case A. cedrosensis would have taxonomic priority. The status of Aplysia reticulopoda Beeman, 1960, is a bit of an enigma; I suspect it has been synonymized with Aplysia vaccaria, but neither Dave Behrens nor I could find the reference. There is obviously a bit of work that can be done on these Aplysia species from the Pacific coasts of California and Baja California.

While diving at Piedras Plancas (27 51.8' N; 115 02' W), in the Punta Eugenia region, Baja Calfornia Sur, my colleagues and I found a copulating group of A. vaccaria with their egg mass. This seems to be the most southerly report of this species from the Pacific coast of the Baja California peninsula.

Part of this research was conducted under the auspices of a grant from the Mexican federal biodiversity agency, CONABIO (Comisión Nacional para el Conocimiento y Uso de la Biodiversidad). I am also grateful to Orso Angulo Campillo and José Luis Arreola for field assistance.



Literature Cited


Bartsch, Paul, and Harald A. Rehder. 1939. Mollusks collected on the Presidential Cruise of 1938. Smithsonian Miscellaneous Collections 98 (10): 18 pp.
Beeman, Robert D. 1968. The Order Anaspidea. The Veliger, Supplement 3, Part II: 87-102.
Behrens, David W. 1991. Pacific coast nudibranchs, second edition. Sea Challengers, Monterey. vi + 107 pp.
Farmer, 1967. Notes on the Opisthobranchia of Baja California, Mexico, with range extensins - II. The Veliger 9 (3): 340 342.
-----. 1968. Tidepool animals from the Gulf of California. Wesword, San Diego, CA. 70 pp.
-----. 1993. Three Pacific ocean Aplysia species of the Californias. West. Soc. Malac., Ann. Rept. 25: 25.
Keen, A. Myra. 1971. Sea shells of tropical west America: marine mollusks from Baja California to Peru. Stanford University Press, Stanford University. xiv + 1064 pp.
Lance, James R. 1967. Northern and southern range extension of Aplysia vaccaria (Gastropoda: Opisthobranchia). The Veliger 9 (4): 412.
Marcus, Ernst. 1961. Opisthobranch mollusks from California. The Veliger 3 (Supplement, Part I): 85 pp.
Winkler, Lindsay R. 1955. A new species of Aplysia on the southern California coast. Bull. South. Calif. Acad. Sci. 54 (1): 5-7.
Winkler, Lindsay R., and E. Yale Dawson. 1963. Observations and experiments on the food habits of California sea hares of the genus Aplysia. Pacific Sci. 17 (1): 102-105.

---
Aplysia vaccaria photo courtesy of Wes Farmer
Send Wes E-Mail at wmfarmer@adnc.com
Taxonomic Information and shell photo courtesy of Dr. Hans Bertsch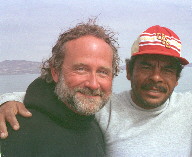 Dr. Hans Bertsch

Assoc. Prof.
Dept. of Math and Natural Sciences
National University
192 Imperial Beach Blvd. #A
Imperial Beach, CA 91932
FAX (619) 423-9118
Send Hans E-Mail at hansmarvida@cox.net

---
© The Slug Site, Michael D. Miller 2000. All Rights Reserved.

---