Risbecia ghardaqana
Risbecia ghardaqana
Sharm El Sheikh, Egypt
September 1996
Photo courtesy of Erwin Kohler

---
Risbecia ghardaqana (Gohar & Aboul-Ela, 1957)

Species making up the genus Risbecia are truly beautiful, but the taxonomy of the group has always baffled me. Risbecia ghardaqana is quite similar to Risbecia imperialis, R. pulchella and even Chromodoris annulata. All have yellow-orange spots and a purple marginal band around the mantle. Aside from C. annulata I have often questioned their separate species status.
If you buy into the separate species status, R. ghardaqana is found exclusively in the Red Sea. Rudman states that the orange spots of R. ghardaqana are larger and more numerous than the spotting on R. pulchella which co-occurs with it.
I think the most interesting things about the Risbecia's are their magical gill movements and their tailing behavior. The gill movement I refer to is a rhythmic wave of the gills as the animals crawl. One might hypothesize that this action might provide greater opportunity for respiration, by increasing the volume of water the gills are exposed to.
Tailing is an interesting behavior discussed previously in our Branch of the Week feature on Risbecia pulchella As seen here, one animal follows the other, by maintaining contact with the front animals tail. Many have speculated on the purpose of such a behavior, as most behaviors of this sort certainly benefit the organism in some way and are not simply coincidental.
Erwin's photos here provide us some interesting insight into this beautiful species biology. I invite you visit Erwin's Medslugs site to sample the many terrific species profiles he offers. Of even more value is Erwin's List of the Opisthobranchs of the World where you can go to find virtually every photograph of sea slugs on the internet today. I use it daily and cannot thank Erwin enough for the time and energy he puts into keeping this valuable resource current.
Thanks from all of us Erwin.


Dave Behrens
Danville, Calif
Mar.. 2000

---
Photo Contributor:
Erwin Kohler
Darmstadt, Germany
Erwin at the Maldives, 1999

I started diving and underwater photography in 1989. First equipment: Nikonos V, SB 103 strobe, several Sea&Sea close-ups. With the years I specialized in macro photography - since summer ´96 nothing but sea slugs (in German I´m called "Nacktschneckenjaeger", i.e. slug-hunter) and flatworms (for Wolfgang Seifarth's Marine Flatworm Page). In November 1996 I sold my equipment except the flashgun and bought a new one: NIKON F 90 X with NIKON 105mm micro-lens, SEALUX housing and SUBTRONIC MEGA flashgun, SB 103 is used as slave. In March 1999 I tested how much time it takes to get the housing full of water (7 seconds)...Now I'm working with another F 90 again, a 90mm TAMRON macro lens and a SUBTRONIC APLHA MACRO as slave flashgun. The year 2000 diving schedule is determined by the Mediterranean Sea: Spain, Cyprus and Lebanon.

Send Erwin e-mail at Medslugs.Koehler@t-online.de
---
Taxonomic information courtesy of: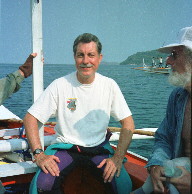 David W. Behrens
Author: Pacific Coast Nudibranchs
Co-Author Coral Reef Animals of the Indo Pacific
Propriator of Sea Challengers Natural History Books

Send Dave mail at seachalleng@earthlink.net

---
© The Slug Site, Michael D. Miller 2000. All Rights Reserved.

---