Specimen at left photographed at Manahuanja Island, Mtwara Region, Tanzania . Specimen at right photographed at Adlam's Reef, Sodwana Bay National Park, Natal, South Africa.


---
Halgerda formosa, Berg 1880
This is the type species for the genus Halgerda. It was first described by Bergh in 1880. Other authors misidentified specimens they collected as Halgerda punctata (Rudman, 1978, Gosliner, 1987 and Wells & Bryce, 1993). But recent examination of the specimens has shown that those animals were indeed H. formosa. Additional specimens have been collected and examined from Mauritius and Southern Tanzania. The distribution of Halgerda formosa is the Indian Ocean.
This species can be distinguished by its yellow-orange ridges with no tubercles, irregularly spaced dark spots on the mantle and foot, dark coloration on the rhinophores and gills and four gill branches. Many other Halgerda have six gill branches. The dark viscera can be seen through the notum. The animals are small: 7-10 mm.
Citation
Shireen J. Fahey and Terrence M. Gosliner. 1999.Description of Three New Species of Halgerda from theWestern Indian Ocean with a Redescription of Halgerda formosa Bergh, 1880. Proceedings of the California Academy of Sciences, 51(8): 365-383, 8 Figs.
---
Photos courtesy of Terry Gosliner
Taxonomic text courtesy of Shireen Fahey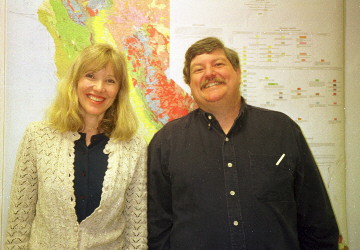 Photo of Dr. Terry Gosliner, Director of Research and Curator of Invertebrates at the California Academy of Sciences in Golden Gate Park, San Francisco, California and Shireen Fahey, Terry's graduate student from San Francisco State University.

Shireen is in the Marine Biology program and for her thesis, she is developing the phylogeny and biogeography of the nudibranch genus Halgerda. She has started with a set of morphological characters but intends to include molecular and biochemical character sets.


Send Shireen email at sfahey@calacademy.org
Send Terry email at tgosliner@calacademy.org

---
© The Slug Site, Michael D. Miller 2000 All Rights Reserved.




---