---
Halgerda dalanghita Fahey and Gosliner, 1999

This brightly colored member of the genus Halgerda was originally placed in the genus Sclerodoris (Gosliner, 1987). But on further examination, we determined that it was more like the Halgerda we were studying. When we analyzed its characteristics in relation to all other members of Halgerda, we found that indeed it was a basal member of the genus. Some of the features that distinguish this animal from other Halgerda are the bright orange body color. Most other Halgerda have a white or gray-white body color. Halgerda dalanghita has very low ridges, and a highly pinnate gill. Other features are internal, and can be seen by dissection and/or electron microscopy.
The holotype was collected from the Batangas Province of the Philippines, and so we gave it a Tagalog name, dalanghita, which roughly translates as a small orange fruit. The range of this animal is quite extensive. Like all other Halgerda, its range is the tropical Indo-Pacific, but H. dalanghita is found throughout this range, from South Africa to the Philippines.
Citation
Shireen J. Fahey and Terrence M. Gosliner. 1999.Description of Three New Species of Halgerda from theWestern Indian Ocean with a Redescription of Halgerda formosa Bergh, 1880. Proceedings of the California Academy of Sciences, 51(8): 365-383, 8 Figs.
---
Photo courtesy of Terry Gosliner
Taxonomic text courtesy of Shireen Fahey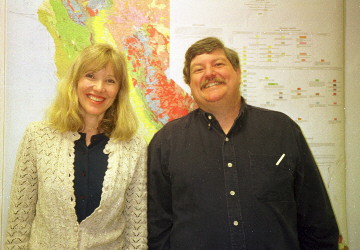 Photo of Dr. Terry Gosliner, Director of Research and Curator of Invertebrates at the California Academy of Sciences in Golden Gate Park, San Francisco, California and Shireen Fahey, Terry's graduate student from San Francisco State University.

Shireen is in the Marine Biology program and for her thesis, she is developing the phylogeny and biogeography of the nudibranch genus Halgerda. She has started with a set of morphological characters but intends to include molecular and biochemical character sets.


Send Shireen email at sfahey@sfsu.edu
Send Terry email at tgosliner@casnotes1.calacademy.org

---
© The Slug Site, Michael D. Miller 2000 All Rights Reserved.




---