Nembrotha c.f. rutilans
Courtesy of Steve Drogin

---
Nembrotha c.f. rutilans (Pruvot-Fol, 1931)

This beautiful Nembrotha has a curious history. It was described in 1931 by Pruvot-Fol from a painting done in 1892 by an artist named William Saville-Kent. There are no type specimens to back the description up and no mention of any aspects of the internal anatomy of course. Although the species is valid and common in parts of the Indo-West Pacific where the painting was based, a taxonomist could never get away with such a description today. To insure that scientists describe new animals in a standardized and reproducible format, new species descriptions must adhere closely to a long and detailed list of specific rules published in the International Rules of Zoological Nomenclature.
To confound the matter of lack of descriptive characterization, Nembrotha c.f. rutilans is one of several similarly colored species forming a co-occurring color complex. Among the species included in this complex are Nembrotha chamberlaini, Nembrotha purpureolineata and a couple new species shown on Bill Rudman's Sea Slug Forum. Steve's photo shown above is a typically colored N. rutilans, with creamy-white body, large brown patches anterior and posterior to the gills, orange-red patch on the tail, long red rhinophores and very large red gills. The characteristic blue line along the edge of the foot appears faint gray in Steve's specimen, however.
The pose displayed here in Steve's photo is typical and commonly observed in this species as well as, other Nembrotha species, such as Nembrotha chamberlaini and Nembrotha milleri , named for our esteemed Webmaster. Personally I wonder about this dramatic cobra or rattlesnake striking posture, as this species feeds on the slowest moving of benthic invertebrates, a sessile tunicate. I mean, come on, these guys are going no where. Never-the-less, Steve's photo depicts with no question the 'Macho', reared back, mouth open, take aim and strike posture.
Reaching 120 mm in length, this species is known from eastern Australia, and throughout Indonesia.
---

Nembrotha c.f. rutilans photo courtesy of Steve Drogin of San Diego, Calif.
Steve Drogin photo courtesy of James Watt of Kona, Hawaii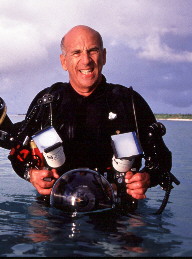 The Nudibranch photo was taken in October 1997 at Kungkungan Bay Resort which is located on the Lambeh Strait near Manado on the northern tip of Sulawesi in Indonesia. This area is extremely densely populated with marine life due to its cooler temperature and strong currents.

Steve is a 58 year old amateur Diver/Photographer who spends full time traveling and diving the globe. He lives in La Jolla, California and is a member of the San Diego Underwater Photographic Society. His photographic credits include an article on the sunken fleet of Bikini Atoll in Sports Divers Journal(Issue 16) .

Send Steve mail at sbdrogin@mill.net
---
Taxonomic information courtesy of:



---
© The Slug Site, Michael D. Miller 1999. All Rights Reserved.

---