\
Philinopsis gardineri
Photo couresty of Mary Jane Adams

---
Philinopsis gardineri (Eliot, 1903)

Philinopsis gardineri is often confused with the highly variable P. cyanea and sometimes even with Chelidonura varians. The most distinguishing feature is its round, rather than truncate anterior body margin and especially the protruding bubble shaped head, which some of us have compared to the front end of a Boeing 747.
P. gardineri has a blue line around the mantle margin and on the foot. P. cynaea which has the truncate body shape, usually has brown markings, while C. varians has a blue line down the center of the body.
This species which was originally described from Tanzania, has now been recorded throughout the Indo-Pacific from South Africa to Indonesia, New Guinea, the Philippines, Fiji, Guam and the Marshall Islands. While I would expect the species to occur also in Australia, the only reference I could find for that locale was Debelius(1996).
Cephalaspidean opisthobranchs feed on a variety of prey from filamentous algae to flatworms, polychaetes and other opisthobranchs. According to Coral Reef Animals of the Indo-Pacific , P. gardineri is a member of a species complex whose members probably feed upon polychaete worms. Specimens attain 4 cm in length and are most often observed on soft substrates.
What'd he say - "It's a bird, it's a plane, No - it's a 747" -- Hummm???


Dave Behrens
Danville, Calif
Sept., 1999

---

Photo courtesy of Mary Jane Adams of Arcadia, California:


I now have dates for my year 2000 Tiata Milne Bay trips
Trip # 1 Feb. 1 to Feb. 14
Trip # 2 Feb. 15 to Feb. 28
Trip # 3 May 2 to May 15
Trip # 4 May 16 to May 29
All trips are 13 nights aboard Tiata with 12 diving days. I will be along on all four trips. (Lucky me!). You will arrive in Alotau from Port Moresby at 4pm on the first day of the trip and be met and transferred to the boat by the Tiata crew. On the last day of the trip you will depart for POM on an early morning flight, connecting the same day with your international flight. Price is $4400 U.S. per person. You make your own airline reservations with the travel agent of your choice. I will tell you exact dates and flights for travel between POM and GUR. I have prepared some information about PNG, Tiata and the diving which I will be happy to mail to you if desired. Please let me know your interest in this trip. If you wish to secure a place, send me a deposit of $1400/person. Checks should be made out to "Mary Jane Adams." Write your trip number on the check. Balance will be billed as two installments of $1500 each. Refund policy: I will not be able to refund payment unless a replacement can be found. I am looking forward to another great year of diving in Milne Bay and I hope all my best buddies will be joining me.

Send Mary Jane mail at mjadams@earthlink
---
Taxonomic information courtesy of Dave Behrens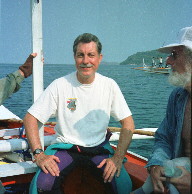 David W. Behrens
Author: Pacific Coast Nudibranchs
Co-Author Coral Reef Animals of the Indo Pacific
Propriator of Sea Challengers Natural History Books !
35 Versailles Court
Danville, CA 94506
E-Mail - info@seachallengers.com
FAX - 925-736-8982
Voice Mail - 925-327-7750
Send Dave mail at seachalleng@earthlink.net

---
© The Slug Site, Michael D. Miller 1999. All Rights Reserved.