Chromodoris tritos

Photo courtesy of Dr. Marc Chamberlain

---
Chromodoris tritos Yonow 1994

The graceful and very beautiful species shown in Marc's photograph above is currently referred to as Chromodoris tritos. This species, which is named with the Greek word "tritos" for "third", is the third species named of a group of three very closely related species. Aside from very subtle differences in radular morphology, C. tritos differs from its sibling species Chromodoris kuniei Pruvot-Fol, known from the western Pacific and Chromodoris geminus Rudman, known from the Indian Ocean and Red Sea, only by differences in the color bands along the mantle margin. Some discussion exists over the validity of this species and the author herself states in the published description that "Further studies may provide more information which will allow us either to synonymize the three taxa, or redefine each more precisely."
The mantle margin of Chromodoris tritos reportedly has three color bands - cream at the outer edge followed by brownish red then pale cream. Personally I only see the outer two bands, the body itself being a cream color. In C. kuniei, the banding is purple at the edge, then light blue and dirty blue, while that of C. geminus is white at the edge, followed by bands of purple, white and yellow. The body color and that of the rhinophores and gills is similar in all three species (see Coral Reef Animals of the Indo-Pacific, by Gosliner, Behrens & Williams; Nudibranchs & Sea Snails, by Debelius; and the 'new' Red Sea Reef Guide, by Debelius, for other color examples).
Specimens of this species have been measured to 45 mm in length, and found at depths to over 75 feet. Marc's photo is from the type locality region of the Maldive Islands.
Whether a distinct species or a regional color variation of one of its two siblings, one thing is for sure - it is one smart looking nudibranch.
---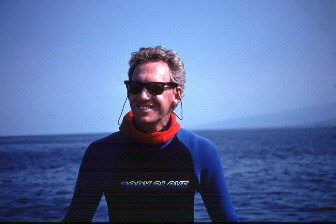 Marc Chamberlain is by vocation a neurologist and by avocation a wildlife photographer. He enjoys traveling during which he is always toting cameras. His diving holidays have been to the Carribean, up and down the west coast of the Americas and throughout the Indo-Pacific. His photographs have appeared in numerous magazines including: National Geographic; International and National Wildlife; Ocean Realm; Outside; and various Cousteau Society publications. Marc has collaborated on several books and presently is working on a book of Indo-Pacific nudibranchs. Marc was also San Diego Underwater Photographic Society Photographer of the Year six times during the time he lived in the San Diego County area. Marc has participated in thirteen consecutive San Diego Underwater Society Film Festivals which has to be a club record!

Send Marc mail at marc.c.chamberlain@kp.org
---
Taxonomic information courtesy of Dave Behrens
Photograph courtesy of Dr. Marc Chamberlain

---
© The Slug Site, Michael D. Miller , 1999. All Rights Reserved.

---