Hypselodoris bollandi
Batangas, Philippines, April 1997

---
Hypselodoris bollandi Gosliner & Johnson, 1999

This weeks nudibranch special is the second presented here from Gosliner and Johnson's recent monograph on the genus Hypselodoris from the Indo-Pacific. It is Hypselodoris bollandi, named in recognition of Dr. Robert F. Bolland, University of Maryland Asian Division, Okinawa. Bob, webmaster of The Okinawa Slug Site has been an active and generous contributor to opisthobranch biology, sharing his many discoveries and observations in the waters of Okinawa with scientists at the California Academy of Sciences. Bob was first recognized by the naming of Chromodoris roboi Gosliner and Behrens, 1998, for which the authors combined "ro" from Robert, with "bo" from Bolland to create the name. In Nudibranch of the Week #112, I explain other certain similarities between Bob and the fictitious movie personality, Robo Cop.
Featured recently as nudi of the week on Bob's Okinawa Site Hypselodoris bollandi is a handsome beast known from only two localities, Okinawa and the Batangas region of Luzon, Philippine Islands. And, it's type locality is? - you guessed it - that rapidly becoming famous, little reef in the middle of nowhere - Bus Stop. Let's see, this makes four, the number of species who hale little Bus Stop Reef as their type localities. See also: Chromodoris hintuanensis, Taringa halgerda , and Hypselodoris reidi . A typical, long slender bodied Hypselodorid, the body is opaque white with a series of blue-black patterns giving the appearance of indentations on the edge of the notum. This pattern is broken up by clearings, each containing a yellow-gold spot. These spots occur over the entire notum and foot. The rhinophores and gills are white highlighted with burgundy red. A relatively large species, averaging 37-43 mm in length, it has been observed at depths from30 to 115 feet. The Batangas specimens were collected by Bruce Baker of Tucson, Arizona.
Bob - on behalf of Terry and Rebecca, and all of us in the sea slug scientists union - THANK YOU!

Citation
Terrence M. Gosliner and Rebecca F. Johnson, 1999. Phylogeny of Hyselodoris (Nudibranchia: Chromodorididae) with a review of the monophyletic clade of Indo-Pacific species, including descriptions of twelve new species.
Zool. Journ. Linnean Soc. 125:1-114, with 62 figures.
---

Photo courtesy of Dr. Bob Bolland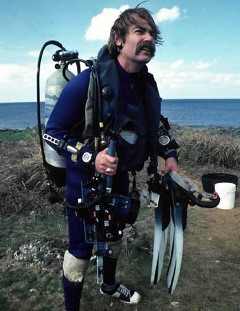 On any given day, but especially when school is out, "Doc" Bob Bolland can be found opening the coffee shop in the predawn hours at Kadena AFB. After a hearty breakfast and a perusal of the newspaper, its off to one of any number of dive sites accessible from the shore on Okinawa. As a guest of Bob's in Jan. 95, I accompanied him on an eight day tour of his favorite dive spots, beginning with Tengen pier. Tengen in periods of military activity is used to off load munitions and is restricted but otherwise is a brancher's paradise. After strapping on 110 tanks and swimming for what seemed like an eternity, we submerged and began a 2 hour odyssey in what has to be one of the world's premier branching spots. The time passed quickly and before I knew it, we threading our way through the rocks back to the jeep. Munching on donuts in an attempt to regain body warmth and reflecting upon the biodiversity of the site are ever lasting memories of the trip. During the week or so I was there, Bob treated me to his favorite shallow diving locations and all were spectacular! On those days when we were locked out by weather, hours were spent going over his slide and shell collections! Especially interesting were the deep water collections! For those of you who have not visited Bob"s The Okinawa Slug Site, you are missing the opportunity of a life time. Bob has recorded and collected at depths where few humans dare venture (myself included). Bob has unselfishly made his observations available to all on his site. Our hats are off to you Bob!

Michael D. Miller


Send Bob email at bolland@imicom.or.jp
---
Taxonomic information courtesy of Dave Behrens




---
© The Slug Site, Michael D. Miller 1999. All Rights Reserved.

---