Thordisa rubescens

Picture taken at Catalina Island by Dr. Marc Chamberlain of Pasadena, Calif

---
Thordisa rubescens Behrens and Henderson, 1981

Its hard to explain, but every once in awhile a taxonomist like myself has to 'sigh of relief' when after years of exile, a species is rediscovered proving it wasn't a fluke and your recently described species really does exist, and actually lives where you once stuck your neck out and told the scientific world you found it. Thordisa rubescens is just one of those species. This photograph by Dr. Marc "Chambo" Chamberlain (he hails to other less admirable nick names as well) is only the second time I am aware of that this species has been recognized and documented since Bob Henderson and I published it's description back in 1981.
A large, typical cryptobranch dorid, it is red-orange in color with gold encrustations over the mantle. Some specimens have a sprinkling of dark specks, as seen in this photo. The name 'rubescens' was chosen to drawn attention to the red-orange color. T. rubescens has a velvety texture to the dorsal surface, formed by closely set papillae, each with protruding spicules, a characteristic referred to as caryopyllidic. Marc's photo shown here differs slightly from the one in Pacific Coast Nudibranchs, as the latter specimen had been maintained live in an aquarium for some period and the papillae had begun to shrink due to improper diet.
Bob Henderson, a man with a huge appetite for California Lobster, had collected the original pair of specimens from his secret Lobster spot in Palos Verdes, California at a depth of about 50 feet. Since then Terry Gosliner collected a single specimen at San Clemente Island. Checking up on his old buddy Dave, he dissected the specimen confirming the description of the internal anatomy. Marc's specimen now brings the total to four documented occurrences. I guess we might say this critters isn't especially common, but its size and color certainly make it easy to see, if you swim over one. Let me know when you come across this guy!

---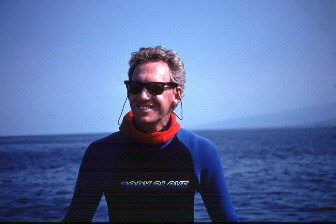 Marc Chamberlain is by vocation a neurologist and by avocation a wildlife photographer. He enjoys traveling during which he is always toting cameras. His diving holidays have been to the Carribean, up and down the west coast of the Americas and throughout the Indo-Pacific. His photographs have appeared in numerous magazines including: National Geographic; International and National Wildlife; Ocean Realm; Outside; and various Cousteau Society publications. Marc has collaborated on several books and presently is working on a book of Indo-Pacific nudibranchs. Marc was also San Diego Underwater Photographic Society Photographer of the Year six times during the time he lived in the San Diego County area. Marc has participated in thirteen consecutive San Diego Underwater Society Film Festivals which has to be a club record!

Send Marc mail at marc.c.chamberlain@kp.org
---
Taxonomic information courtesy of Dave Behrens
Photograph courtesy of Dr. Marc Chamberlain

---
© The Slug Site, Michael D. Miller , 1999. All Rights Reserved.

---