Mexichromis tura
---
Mexichromis tura (Marcus & Marcus, 1967)


Over ten years ago, Kerstitch and Bertsch (1988) called this species "rarely observed." Since this publication, no further records of the species have been reported. Mexichromis turia is truly a hard-to-find nudibranch in the Panamic province. Specimens have been found only from 5 localities: Ft. Kobbe Beach, Panama (8 48' N; 79 55' W); Sayulita, Nayarit, Mexico ((21 15' N; 105 15' W); La Cruz, Nayarit, Mexico (21 30' N; 105 16' W); La Paz, Baja California Sur, Mexico (24 11' N; 110 23' W); and Bahía San Carlos, Sonora, Mexico (27 55' N; 111 04' W).

The mantle margin of the animal is rimmed with three encircling bands: an outermost yellow, a middle black, and an innermost powder blue. The black dorsum has numerous yellow spots; the periphery of the dorsum has larger, whitish streaks and splashes. The gills are white, with black tips. The rhinophores are completely black. Please refer to the Mexichromis antonii Nudibranch of the Week for additional generic references.



LITERATURE CITED



Kerstitch, A., and H. Bertsch. 1988. Mexichromis tura: range extension of a rarely observed nudibranch. Veliger 30 (4): 421.


---
Text by Dr. Hans Bertsch, Photograph by Dr. Antonio J. Ferreira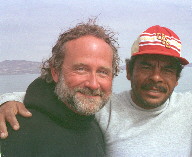 Dr. Hans Bertsch

Assoc. Prof.
Dept. of Math and Natural Sciences
National University
192 Imperial Beach Blvd. #A
Imperial Beach, CA 91932
FAX (619) 423-9118
Send Hans E-Mail at hansmarvida@cox.net

---
© The Slug Site, Michael D. Miller 1999. All Rights Reserved.




---