---
Halgerda elegans Berg, 1905

This is Halgerda elegans, the animal which was used to compare morphological similarities with the new species, Halgerda albocristata Gosliner & Fahey, 1998. Halgerda elegans was first described in 1905 by Bergh, although the description was rather incomplete and it has not been reported in the literature since then. This specimen is 8 mm long, and was originally described from Indonesia. The photo you see above was taken by Dr. Terry Gosliner in Papua New Guinea. This species id found crawling in the open on reefs, rocky surfaces and also under coral rubble from 5-13 meters depth. Like Halgerda albocristata, H. elegans feeds on unidentified sponges. The coloration, reproductive and the radular morphology of Halgerda elegans differs significantly from H. albocristata. However, H. elegans also contains the flattened glandular structures in the gills.
Citation
Terrence M. Gosliner and Shireen J. Fahey. 1998.Description of A New Species of Halgerda from the Indo-Pacfic with a Redescription of Halgerda Elegans Bergh, 1905 . Proceedings of the California Academy of Sciences, 50(15): 347-359, 9 Figs.


Photo courtesy of Terry Gosliner
Taxonomic text courtesy of Shireen Fahey

---
Shireen Fahey and Terry Gosliner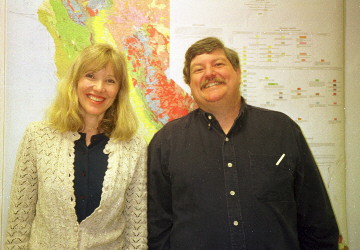 Photo of Dr. Terry Gosliner, Director of Research and Curator of Invertebrates at the California Academy of Sciences in Golden Gate Park, San Francisco, California and Shireen Fahey, Terry's graduate student from San Francisco State University.

Shireen is in the Marine Biology program and for her thesis, she is developing the phylogeny and biogeography of the nudibranch genus Halgerda. She has started with a set of morphological characters but intends to include molecular and biochemical character sets.


Send Shireen email at sfahey@sfsu.edu
Send Terry email at tgosliner@casnotes1.calacademy.org

---
© The Slug Site, Michael D. Miller 1998 All Rights Reserved.






---