---
Halgerda albocristata Gosliner & Fahey, 1998

This is a new species of the genus Halgerda, Halgerda albocristata. It's known from Okinawa, Papua New Guinea and Indonesia. The above photo was taken in the Philippines by Dr., Terry Gosliner. The body profile of this species is high and the dorsum has a series of angled ridges arranged in a reticulated pattern. These characteristics are common among Halgerda species. Along the mantle edge are short, evenly-spaced black lines which are also found on Halgerda elegans Bergh, 1905, which is most similar in appearance to H. albocristate. However, the radular and reproductive morphologies of H. albocristata and H. elegans differ significantly. The trivial name, albocristata means white ridge and it was chosen to distinguish this species with its white ridges from H. elegans which has orange-yellow ridge crests.
Halgerda albocristata is found crawling in the open on reefs, rocky surfaces and also under coral rubble. It feeds on thus far unidentified sponges and has been found from about 5-15 meters in depth.
Bergh first described the genus Halgerda in 1880. The type species is Halgerda formosa. There are fourteen described species thus far, many of them having been described around the turn of the century by Eliot, Farran and others.
There are recent authors who have also described members of the genus Halgerda. Rudman for example, in 1978, presented a further description of several previously described Halgerda from Zanzibar along with the description of a new species from Fiji. In 1982, Bertsch and Johnson described a new species ( Halgerda terrramtuentis) from Hawaii. In 1989, Willan and Brodie re-described a known species from Fiji and compare it to specimens from Australia. Carlson and Hoff described three new species from Guam in 1993.
We have already ascertained that there are new characters that haven't been previously described in the literature. For example, there is a group of Halgerda species with a unique vaginal gland. In addition, all Halgerda we have studied have flattened glandular structures inside the gills. We'll be looking at these features more closely.
Citation
Terrence M. Gosliner and Shireen J. Fahey. 1998.Description of A New Species of Halgerda from the Indo-Pacfic with a Redescription of Halgerda Elegans Bergh, 1905 . Proceedings of the California Academy of Sciences, 50(15): 347-359, 9 Figs.


Photo courtesy of Terry Gosliner
Taxonomic text courtesy of Shireen Fahey

---
Shireen Fahey and Terry Gosliner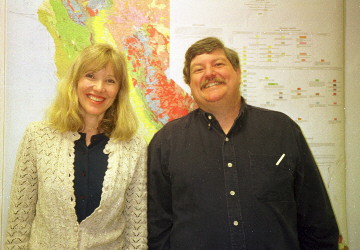 Photo of Dr. Terry Gosliner, Director of Research and Curator of Invertebrates at the California Academy of Sciences in Golden Gate Park, San Francisco, California and Shireen Fahey, Terry's graduate student from San Francisco State University.

Shireen is in the Marine Biology program and for her thesis, she is developing the phylogeny and biogeography of the nudibranch genus Halgerda. She has started with a set of morphological characters but intends to include molecular and biochemical character sets.


Send Shireen email at sfahey@sfsu.edu
Send Terry email at tgosliner@casnotes1.calacademy.org

---
© The Slug Site, Michael D. Miller 1998 All Rights Reserved.






---