Doriopsilla spaldingi
---
Doriopsilla spaldingi Valdes & Behrens 1998

Well Okay California divers, how about this one? Fantastic! Our standard old yellow sea lemon, but with a Hermissenda iridescent blue racing stripe around the margin. Awesome.
Jim Lance shared this species with me many years ago, after friend and local deep water diver George Spalding, III of Solana Beach, brought this beautiful beast up from about 140 feet in Scripps Canyon. Over the years more than a hundred specimens of Doriopsilla spaldingi have learned to love the cool environment of Jim's bathroom (location of live Branch storage in the Lance household), as Jim made laborious observations and took volumes of notes on this critter's behavior and anatomy.
After endless and persistent urging, Angel and I decided that "YOU" the Branching public shouldn't have to wait any longer to meet this species and we acquired specimens to officially describe the beast ourselves. Following Jim's recommendation we named it after George, the original discoverer.
In the next few months several changes and new species will be occuring to the group of porostome dorids, to which D. spaldingi belongs. Confusion over the descriptions of the identical Dendrodoris fulva and Doriopsilla albopunctata will be cleared up. Nomenclatural changes will occur as high as the Family name itself. It is only happenstance that our paper was published before these landmark contributions come out.
While you need to dive deep to get a glimpse of this species, when you see it, it will be unmistakable. D. spaldingi varies from creamy white to bright yellow, looking unbelievably similar to Dendrodoris fulva and Doriopsilla albopunctata. It reaches up to 85 mm in length. The coloration of the margin sets it apart externally, ranging from a white band to the brilliant blue seen in Mike's photo above. The rhinophores and gills are the same color as the dorsum. Internal differences in the reproductive system and the spines on the penis clearly separate it from these species.
Specimens of Doriopsilla spaldingi are known from La Jolla Submarine Canyon, Point Loma in San Diego County, San Miguel Island, Santa Barbara Channel Islands and South Coronado Island, Baja California, Mexico.
One interesting characteristic of this species is that the larvae exhibit lecithotrophic or direct development; a crawling subadult emerges directly from a large egg, rather than the characteristic swimming veliger larvae of most nudibranchs. The egg masses are a yellow coil attached to the substrate on their flat side rather than on edge like its similar relatives.
Angel and I would just like to say "Here's to you George", you've waited along time for this one.


Reference
Angel Valdes and David W. Behrens. 1998. A new species of Doriopsilla (Mollusca, Nudibranchia, Dendrodorididae) from the Pacific Coast of North America. Proceedings of the California Academy of Sciences, 50(13): 307-314, 5 Figs.
---
Taxomonic information courtesy of Dave Behrens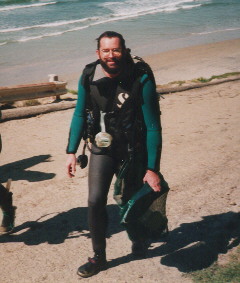 George E Spalding III has been a certified diver for the last 11 years. In that time he has logged well over 1000 dives. Most of these dives have been in San Diego, CA, though George has dived in the Channel Islands, Monterey and Carmel, Other Pacific Ocean diving experience includes La Bufadora, Todos Santos Islands, and Santo Tomas, located in Baja California, and Hawaii. He has dived the Florida Keys, and Cabo San Lucas, Cabo Pulmo, Loreto and Bahia de los Angeles on the Baja California side of the Sea of Cortez, Grand Cayman Island and the Gulf of Aqaba in the Red Sea.

George is a PADI Divemaster. He leads twice-weekly dives to Scripps Canyon for the University of California, San Diego SCUBA Club, the Sea Deucers. In addition he frequently leads boat dives for the Sea Deucers.

It was in Scripps Canyon that George first found specimens of Doriopsilla spaldingi. Over a six year period of collection and observation for leading researchers in the field of opistobranchs, George helped identify habitat, food sources and mating habits for this specimen. He has also brought back several undescribed species for examination by these researchers.

Send George mail at ges3@excite.com

---
---
© The Slug Site, Michael D. Miller 1998. All Rights Reserved.






---