Polycera atra
---
Polycera atra MacFarland, 1905

Members of this genus possess an elongate, limaciform body; the frontal veil has short, pointed processes; the non-retractile gills have accessory postero-lateral extra- branchial appendages.
Polycera atra typically has a gray white body with longitudinal black stripes. Yellow orange dots occur on the lighter portion of the body; rhinophores and gills are black with orange tips. There are about a half dozen orange tubercles on the dorsolateral ridge from each rhinophore to the gills. The frontal veil has 4-8 processes, with varying amounts of yellow-orange coloration.
Careful searching of colonies of the branching bryozoan Bugula will often yield specimens of Polycera atra and their egg masses. Data are needed about the seasonal occurrence of their nidosomes.
A lighter color form has been documented by previous authors. MacFarland (1966: 117) wrote that "lighter colors are more frequent in specimens from southern waters as shown in the figures made from photographs" (his Plate 18, figures 2 and 3). Behrens (1991: 53) has stated that "Southern California kelp bed specimens may be quite white with only a few black stripes." My collecting experience seems to suggest that the lighter color phase is based on feeding habits, not geographic distribution. I have found the very whitish form feeding on the bryozoan Membranipora, which encrusts offshore kelp. Subtidal specimens collected from Bahía Tortugas (near the extreme southern limit of its range), exhibit a more typical darker coloration.
Living adult specimens average 25 mm, but can reach 30-40 mm in total length. This species has been reported from Cape Arago, Oregon, USA, to Bahía Estero de Coyote (on the Punta Eugenia peninsula, just south of Bahía Tortugas), Baja California Sur, Mexico.
(I thank the Mexican federal government Comisión Nacional para el Conocimiento y Uso de la Biodiversidad, Referencia: L136, for funding of my recent research at Bahía Tortugas.)
---
Text and photos: Hans Bertsch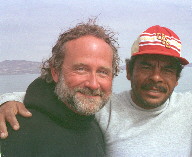 Dr. Hans Bertsch

Assoc. Prof.
Dept. of Math and Natural Sciences
National University
192 Imperial Beach Blvd. #A
Imperial Beach, CA 91932
FAX (619) 423-9118
Send Hans E-Mail at hansmarvida@cox.net

---
© The Slug Site, Michael D. Miller 1998. All Rights Reserved.






---