Chromodoris roboi
Courtesy of Dr. Bob Bolland
University of Maryland/Asian Division
Okinawa

---
Chromodoris roboi Gosliner & Behrens, 1998

One of five new species of Indo-Pacific Chromodorids described in a just published paper (February 11, 1998, Proceedings of the California Academy of Sciences, Vol. 50, No. 5, pp. 139-165, 15 figs.) it is named in recognition of Dr. Robert Bolland, webmaster of the The Okinawa Slug Site , Research Associate of the California Academy of Sciences, collector of all the type specimens, opisthobrancher extraordinaire, and good friend. The construction of the name roboi, is two fold, the first two letters of his first and last names, and Bob's personality similarities with Robo Cop, the fictitious personality, both of whom are equally daring and adventurous.
Bob's collections of this species from Okinawan waters dates back to the mid 1980's. Since then, two photographs have been published, one a specimen from Lord Howe Island, New South Wales, Australia (in Coleman, 1989, page 35) and recently, a specimen from Murion Island, Western Australia, shown misidentified as Hypselodoris vibrata (in Debelius, 1996, page 239). The first Chromodoris roboi internet presentation was in October 1996 on The Okinawa Slug Site.
Unquestionably a striking species, the magnificent, deep blue blocks of color along the margin, separated by black areas of pigment, make it easy to distinguish. Most of the notum is yellowish-orange with circles or irregular patches of blue to lavender. These patches are of different sizes and shapes. In some specimens dark brown blotches cover the dorsal surface to varying degrees. The rhinophores and gills are blue-black.
Chromodoris roboi is readily distinguishable from all other species of Chromodoris by its unique pattern of coloration. It is the only species with a yellow-orange body color with blue marginal rectangles separated by black spaces. Chromodoris vibrata (Pease, 1860) is the most similar species in terms of color, and as mentioned above has been confused with C. roboi. It has white pustules on the notum, and a white marginal region with triangular blue interrupting the white. A noteworthy difference is that the gills of C. vibrata, vibrate, hence the name vibrata (see Kay and Young, 1969) while those of C. roboi do not.
This species, which is found relatively deep in Okinawa (about 30-50m), has been observed to raise and lower the anterior edge of the mantle as it crawls. This is a common trait of Chromodoris geometrica and one of the other species newly described in this paper, Chromodoris hintuanensis.

Our special thanks to Robo - Bob Bolland for making his specimens available to us for this description.
---

Photos courtesy of Dr. Bob Bolland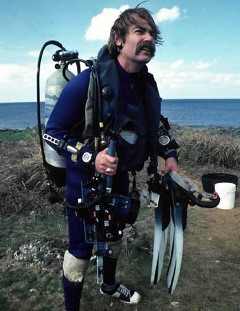 On any given day, but especially when school is out, "Doc" Bob Bolland can be found opening the coffee shop in the predawn hours at Kadena AFB. After a hearty breakfast and a perusal of the newspaper, its off to one of any number of dive sites accessible from the shore on Okinawa. As a guest of Bob's in Jan. 95, I accompanied him on an eight day tour of his favorite dive spots, beginning with Tengen pier. Tengen in periods of military activity is used to off load munitions and is restricted but otherwise is a brancher's paradise. After strapping on 110 tanks and swimming for what seemed like an eternity, we submerged and began a 2 hour odyssey in what has to be one of the world's premier branching spots. The time passed quickly and before I knew it, we threading our way through the rocks back to the jeep. Munching on donuts in an attempt to regain body warmth and reflecting upon the biodiversity of the site are ever lasting memories of the trip. During the week or so I was there, Bob treated me to his favorite shallow diving locations and all were spectacular! On those days when we were locked out by weather, hours were spent going over his slide and shell collections! Especially interesting were the deep water collections! For those of you who have not visited Bob"s The Okinawa Slug Site, you are missing the opportunity of a life time. Bob has recorded and collected at depths where few humans dare venture (myself included). Bob has unselfishly made his observations available to all on his site. Our hats are off to you Bob!

Michael D. Miller


Send Bob email at bolland@imicom.or.jp
---
Taxonomic information courtesy of: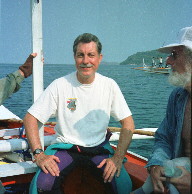 David W. Behrens
Author: Pacific Coast Nudibranchs
Co-Author Coral Reef Animals of the Indo Pacific
Propriator of Sea Challengers Natural History Books

Send Dave mail at seachalleng@earthlink.net

---
© The Slug Site, Michael D. Miller 1999. All Rights Reserved.

---