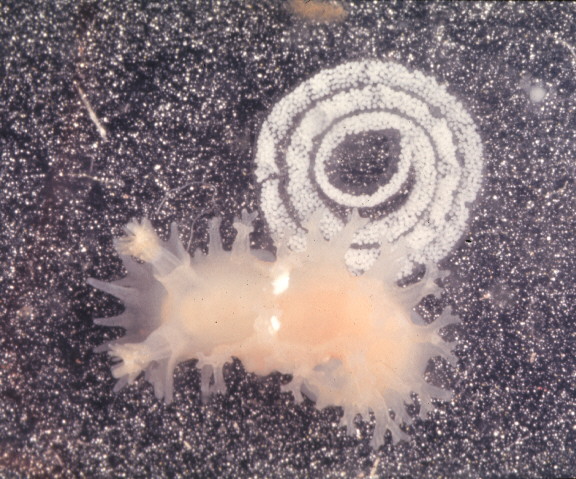 Tritonia myrakeenae
---
Tritonia myrakeenae Bertsch & Mozqueira, 1986

The opisthobranch bidiversity of northwestern Baja California is still being studied and understood. Despite having made numerous research expeditions along this coastline, examining both intertidal and subtital habitats, I am still discovering new records. A recent research expedition to Bahia Tortugas with my colleagues Orso Angulo and Jose Luis Arreola of the Universidad Autonoma de Baja California Sur, La Paz, yielded interesting new distributional and life history data. These will be reported in future publications. This expedition was part of an ongoing series of research trips supported by a grant from the Mexican federal government agency, CONABIO (Comision Nacional para el Conocimiento y Uso de la Biodiversidad).
The present Nudibranch of the Week was originally collected from this faunal region; it is only known from the zoogeographic province that extends from the Point Conception region (California) to the area of Punta Eugenia (Baja California Sur). The type locality for this species is the southeast end of Isla Cedros. Original paratypic material was also collected from Ensenada, Baja California. Dave Behrens' (1980) first edition of Pacific Coast Nudibranchs reported specimens from the southern California area, from Santa Barbara to San Diego. The accompanying photograph of Tritonia myrakeenae with its egg mass was taken by David Mulliner before the species had been named.
Its coloration is quite distinctive--white, with whitish patches on the dorsal surface. The original description (and photographs in the two Behrens' Pacific Coast Nudibranch volumes) detail further anatomical features of this 6-18 mm long species (oral veil, rhonophores, branchial processes, radula, jaws,etc.)
On a personal and historical note, this species was named to honor Dr. A. Myra Keen, who had died shortly before the submission of this manuscript. I remember speaking with R. Tucker Abbott about publishing an article in the 100th Anniversary Volume of the The Nautilus. When I told him I had a species I wished to name after Myra Keen, he told me the manuscript would be give top priority for immediate publication. A fitting tribute to two of the major American malacologists of this century.


Thank you, Myra and Tucker.

Respectfully, Hans

---
Photo courtesy of Dave Mulliner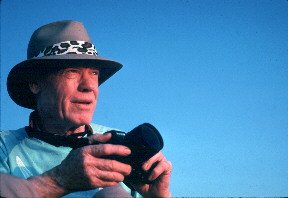 David Mulliner is a true legend. He was Sea Hunt before Lloyd Bridges. Seriously, he has been diving and studying marine life in San Diego and Baja California for decades. He has also pioneered close-up microphotography, and is the staff photographer for the San Diego Shell Club's publication, The Festivus. His charming smile and welcoming embrace have encouraged many neophytes into studying nudibranchs and other molluscs. Dave has generously supplied specimens to many scientists. He continues to share his expertise, knowledge and photographs, and we thank him for allowing us to use his marvelous picture of Tritonia myrakeenae with its egg mass.
---
Text courtesy of Dr. Hans Bertsch
---
© The Slug Site, Michael D. Miller 2009. All Rights Reserved.

---