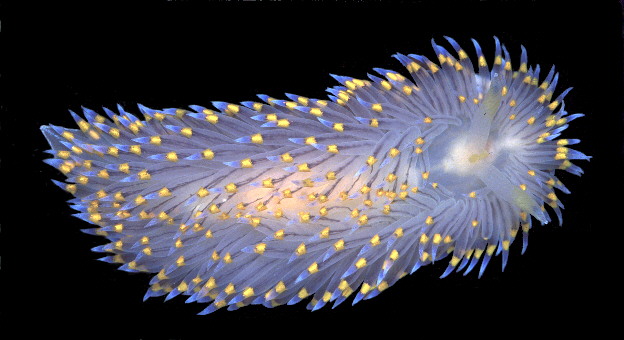 Janolus barbarensis
---
Janolus barbarensis (Cooper, 1863)
The body of this species resembles an aeolid, as it is covered with cerata. Gosliner (1992) changed the name from Antiopella to Janolus and recognized an extremely similar and often confused, previously synonymized species Janolus fuscus (O'Donoghue, 1924) as separate and distinct. These two janolids differ in that in J. barbarensis the digestive gland within the cerata are irregularly branched. J. barbarensis is the more southern of the two species, being found from San Francisco Bay, south to Bahia San Quintin, Baja California and in the Gulf of California (Behrens, 1991). The ranges of the two overlap between San Francisco Bay and San Luis Obispo, California. J. barbarensis is a real treat for the photographer, displaying spectacular ceratal coloration, with its blue tips and subapical oraque yellow orange band.
---
Above specimen collected by Don Cadian in boat docking area measured almost 82 mm!
---
p>

---
For those of you interested in the photographic background information of the images, the following may be of interest!
---
Camera System: Tussey T-300 underwater housing with FM-2/Nikon 60mm lens.

Strobe: Ikelite Ai

Film: Fuji Velvia

Site: San Diego, CA

Photo Editing: PhotoStyler 2.0 on 486 DX-2 33 mhz/ 64 megs RAM
---
© The Slug Site, Michael D. Miller 1998 All Rights Reserved.



---
Last Updated 10:49 AM on 12/15/98