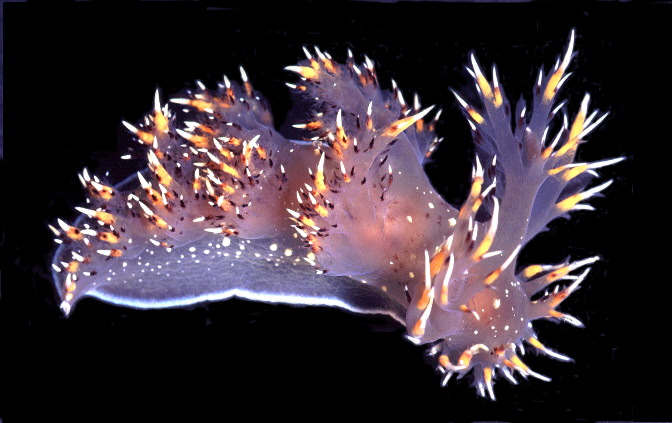 Photo courtesy of Ralph and Dale Marie Gonzales

Dendronotis iris
---
Dendronotis iris (Cooper, 1863)
One of the largest and most variably colored dendronotids on the west coast of the Americas, it may reach 200 mm in length. The specimen shown here is an intermediate color morph. This species color ranges from white (see Behrens, 1990, species 145) to grey , orange and red . Behrens (1980, species 88) includes a photograph of this spotted color phase. Regardless of the body color the species always has a white line along the edge of the foot.
A capable swimmer, individuals can cover long distances, staying adrift by undulating their bodies from side to side. D. irus feeds on the burrowing anemone, Pachycerianthus fimbriatus. When feeding, individuals have been observed to be pulled completely inside of the anemones tube, as the anemone retreats with the nudibranch hanging on with a jaw full of tentacles.
The species occurs from Alaska to the Coronado Islands and Baja California, Mexico.
---

The above information courtesy of:

---
© The Slug Site, Michael D. Miller 1998. All Rights Reserved.






---