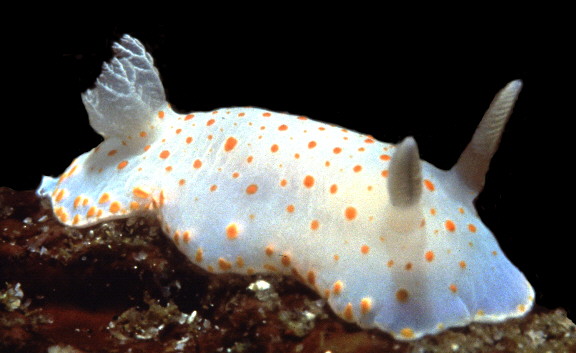 Tyrinna evelinae (Marcus, 1958)
---
Tyrinna evelinae, 1958

This small cadlinid reaches about an inch in total length (about 30mm). It is a soft bodied species, with an undulating mantle margin. The white dorsum is covered with brilliant yellow-orange spots. These spots are largest around the edge of the notum. The lamellate rhinophores and the 6-9 gills are bright white.
This species was originally named from specimens collected at Sao Paulo, Brazil. Clinton Collier and Wesley Farmer first reported this species from the western Pacific, where it is now known to range throughout the Gulf of California to Ecuador, and from Bahia Sebastian Vizcaino, on the Pacific coast of the Baja California peninsula. It also occurs along the Atlantic shores of tropical west Africa.
Ernst Marcus named this beautiful species after his wife and collaborator, Eveline du Bois Reymond Marcus.

---

Photo of Eveline Marcus taken at Point Loma (San Diego) in August 1969. She has Aplysia californica in one hand and Aplysia vaccaria in the other.



Photo courtesy of Dr. Wesley Farmer.
---
Photos and text by Dr. Hans Bertsch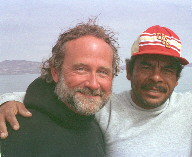 Dr. Hans Bertsch

Assoc. Prof.
Dept. of Math and Natural Sciences
National University
192 Imperial Beach Blvd. #A
Imperial Beach, CA 91932
FAX (619) 423-9118
Send Hans E-Mail at hansmarvida@cox.net

---
© The Slug Site, Michael D. Miller 1998. All Rights Reserved.




---