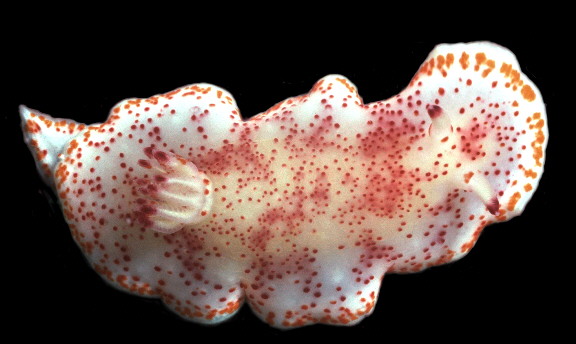 Chromodoris baumanni
---
Chromodoris baumanni Bertsch, 1970

Chromodoris baumanni is widely distributed throughout the Panamic province (tropical west America). It has been reported from the central Gulf of California to the Galapagos Islands. Its type locality is Isla San Francisco, southern Gulf of California, Baja California Sur, Mexico.
The adult animal's body length ranges from about 50-65 mm (2 to 2 1/2 inches). Its color pattern (although reminiscent of Chromodoris norrisi) is distinctive: red-purple dots cover the white dorsum and posterior and lateral surfaces of the foot. Around the margins of both the body and foot is an interrupted band of orange streaks. The bases of the rhinophores and gills are white; the distal ends are tinted wth red-purple hues.
Almost nothing is known of the biology of this species. I have found its egg mass only once (in June 1986) in the southern Gulf of California.
This is a very significant animal in the history of nudibranch research. It was the FIRST SPECIES EVER NAMED USING SCANNING ELECTRON MICROSCOPY TO ILLUSTRATE THE RADULA. Since then, scanning electron micrographs of radular teeth have become the standard in describing new species.
On a personal note, I named this species after my high school biology teacher, Father Anthony Baumann, as a small "thank you" for his encouragement of my bizarrely inquisitive mind!
---
Photos and text by Dr. Hans Bertsch
---
© The Slug Site, Michael D. Miller 2003. All Rights Reserved.




---