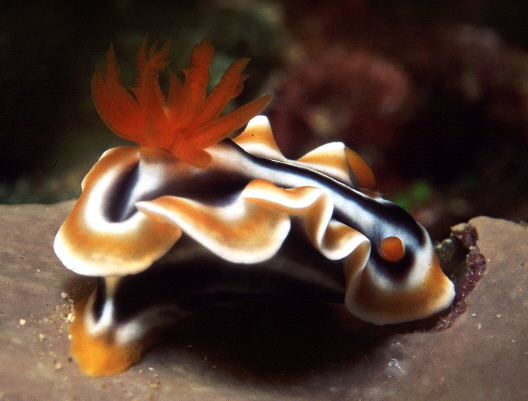 Chromodoris magnifica
---
Chromodoris magnifica was first described in 1832 by Quoy and Gaimard and was not recorded again until the 1980's. It is found from Australia, Papua New Guinea, Indonesia and the Philippines. It is closely related to two other species with similar color patterns: Chromodoris kuiteri, from Australia and Chromodoris africana, from the western Indian Ocean. It has an undescribed flatworm which mimics its color pattern.
---
As a new feature to the Slug Site, a different nudibranch will be selected on a weekly basis for enchanced display.
---

The above information courtesy of:


Dr. Terry Gosliner
California Academy of Sciences
Send Terry mail at tgosliner@calacademy.org
---
For those of you interested in the photographic background information of the images, the following may be of interest!
---
Camera System: Tussey T-300 underwater housing with FM-2/Nikon 60mm lens.

Strobe: Ikelite Ai

Film: Fuji Velvia

Site: Batangas, Luzon, Philippines

Photo Editing: PhotoStyler 2.0 on 486 DX-2 33 mhz/ 64 megs RAM
---
---
© The Slug Site, Michael D. Miller 1998 All Rights Reserved.



---