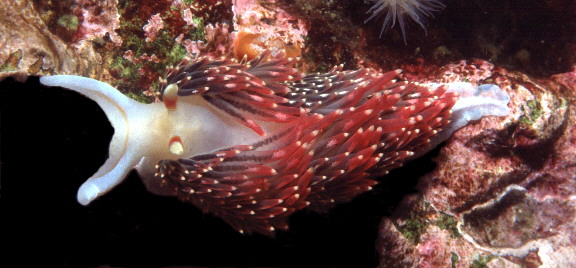 Phidiana hiltoni
---
Phidiana hiltoni (O'Donoghue, 1927) ** Hilton's Phidiana
This species has appeared in the literature under several other (junior) names, Phidiana niger (depicting the black ceratal cores) and Phidiana pugnax (for its pugnacious behavior). Named to honor William Attwood Hilton, this species ranges from Isla Cedros, Baja California, Mexico north to Duxbury Reef, Marin County, California where numerous, very large specimens have recently been collected. It can be distinguished by its red with yellow tipped perfoliate rhinophores, the red line across the front of the oral tentacles, above which is a white line, which extends down the border of the foot. The ceratal cores are brown to black. Each ceras is tipped with white or gold followed by a rose-pink band which fades proximally.
As one of the junior synonym names implied, this species often displays pugnacious behavior, in scientific jargon "agnostic" behavior. During this behavior the cerata are held stiff and erect, like a disturbed porcupine and the individual can be observed actively attacking and biting. This behavior is usually demonstrated when disturbed by a predator or curious diver or can be associated with mating, feeding or cannibalism.
---

The above information courtesy of:

---
© The Slug Site, Michael D. Miller 1998. All Rights Reserved.






---