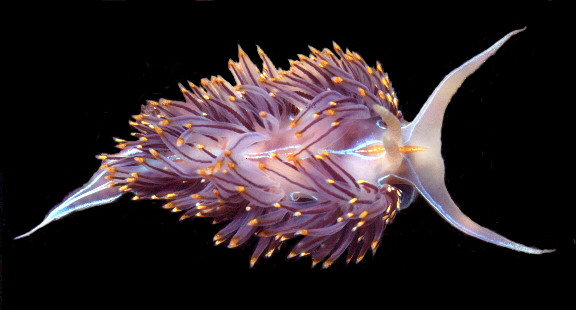 Hermissenda crassicornis
---
Hermissenda crassicornis (Eschscholtz, 1831)
One of the prettiest and probably the most well known species of aeolid nudibranch on the Pacific coast of North America. Along with its broad distribution, Kodiak Island, Alaska to Punta Eugenia, Mexico, Bahia de Los Angeles, Baja California, Mexico and Japan, its is found in varing habitats, intertidally and subtidally, including bays, estuaries as well as the open coast.
While ceratal coloration varies from locality to locality, and habitat to habitat (see three color variations in Behrens, 1st edition, 1980), it can always be distinguished by the bright orange stripe down the midline of the dorsum. A blue to white line occurs on the dorsal surface of the oral tentacles. At the the rhinophores this line splits in two, with one line following the edge of the foot to the tail, the other flanking the orange midline stripe.
Because of its abundance and availability this species is used in behavioral and neurological laboratory studies. Hermissenda is a good example of a nudibranch species displaying aposematic or warning coloration. Several authors have reported field and laboratory observations of fish species avoiding this brightly colored animal; that the nematocysts stored within the cerata are capable of causing tissue damage to fish which attempt to consume it. One species of fish, the mosshead warbonnet, has even been observed to bend the body of Hermissenda in half so that the cerata are appressed to each other, preventing the nematocysts from coming in contact with any of the fishes oral cavity or digestive tract.
---

The above information courtesy of:

---
© The Slug Site, Michael D. Miller 1998. All Rights Reserved.






---