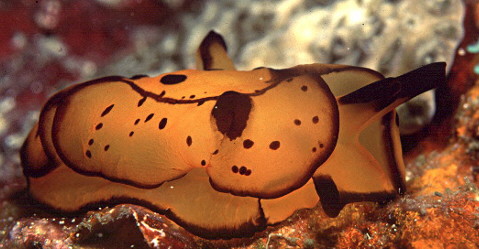 Berthella martensi
---
Berthella martensi was described by Pilsbry in 1896. Known from Reunion Island, East Africa to Maldives, Australia, New Guinea, Indonesia, Philippines, Okinawa, Hawaii and Pacific coast of Mexico.
---

The above information courtesy of:

---
For those of you interested in the photographic background information of the images, the following may be of interest!
---
Camera System: Tussey T-300 underwater housing with FM-2/Nikon 60mm lens.

Strobe: Ikelite Ai

Film: Fuji Velvia

Site: Anilao, Batangas, Philippines

Photo Editing: PhotoStyler 2.0 on 486 DX-2 33 mhz/ 64 megs RAM
---
© The Slug Site, Michael D. Miller 1998. All Rights Reserved.






---