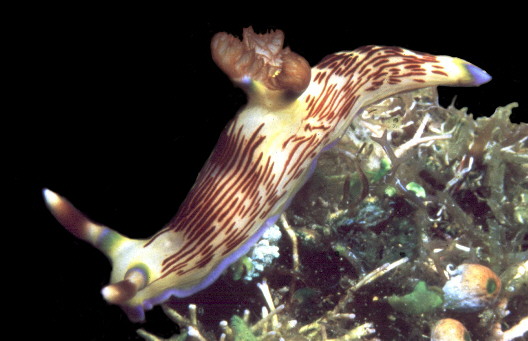 Nembrotha lineolata
---
Nembrotha lineolata was named in 1905 by Bergh from specimens collected in Indonesia. It has now also been found from Tanzania, Australia, Papua New Guinea, Indonesia, the Philippines, Okinawa and Japan. It feeds upon solitary tunicates on shallow reefs.
---

The above information courtesy of:

---
For those of you interested in the photographic background information of the images, the following may be of interest!
---
Camera System: Tussey T-300 underwater housing with FM-2/Nikon 60mm lens.

Strobe: Ikelite Ai

Film: Fuji Velvia

Site: Anilao, Batangas, Philippines

Photo Editing: PhotoStyler 2.0 on 486 DX-2 33 mhz/ 64 megs RAM
---
© The Slug Site, Michael D. Miller 1998 All Rights Reserved.






---
Last updated 10:45 AM on 12/15/98