Polycera tricolor
Courtesy of Bruce Wight and Cindy Copperthite
San Clemente Island
June, 1995

---
Polycera tricolor Robilliard, 1971

First reported by Jim Lance in 1969 from southern California, Polycera tricolor rates right up there with one of the most recent additions (at least in my lifetime) to the Pacific coast nudibranch fauna. Gordon Robilliard (Gordy as his friends call him) named this species for its three colors on the 5-11 frontal appendages, 4-6 extra-branchial appendages, all of which are tipped with white above a yellow medial band followed by a black base. The rhinophores and gills follow this same color regime. There is a distinct yellow line down the tail and along the edge of the foot.
This striking species has been collected to 20 mm in length and feeds on arborescent bryozoans. It ranges from its type locality at Bamfield, Barkley Sound, British Columbia to the Coronados Islands, Baja California, Mexico. Relatively rare in southen California, it is usually found in rocky areas, subtidally to 60 m deep.
---

Photos courtesy of Bruce Wight and Cindy Copperthite of Laguna Beach, Calif: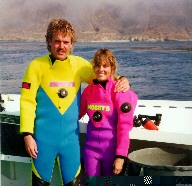 Bruce and Cindy are both engineers for Boeing Co. in Seal Beach, Calif.
In their spare time they are avid divers with a particular interest in nudibranchs.
They enjoy photographing branchs in local waters and sharing them with
other members of the San Diego Underwater Photographic Society.


Send Bruce mail at bcwight@co.bna.boeing.com
---
Taxonomic information courtesy of: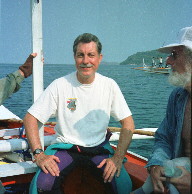 David W. Behrens
Author: Pacific Coast Nudibranchs
Co-Author Coral Reef Animals of the Indo Pacific
Propriator of Sea Challengers Natural History Books

Send Dave mail at seachalleng@earthlink.net

---
© The Slug Site, Michael D. Miller 1999. All Rights Reserved.

---