Ancula pacifica
Courtesy of Bruce Wight and Cindy Copperthite
San Clemente Island
First Place, Advanced
Nudibranch Competition
Oct. 96, SDUPS

---
Ancula pacifica MacFarland, 1905

Ancula pacifica was the subject of my first publication on nudibranchs. With the generous assistance of Ms. Joan Steinberg in San Francisco, I (a young undergrad) tediously constructed a paper reporting the extension of the range of this species to San Francisco Bay where I had collected it while conducting a class project at San Francisco State University. Since that paper in 1971, the range of this species has been documented north to Grant Island, Ketchikan, Alaska by Sandra Millen (1989).
Ancula pacifica is a terrific little phanerobranch dorid nudibranch. Reaching about 16 mm in length it is transparent in body color with various yellow markings. This neat critter has two extra rhinophoral appendages and five extra branchial appendages surrounding the three gill plumes. Although its color varies a great deal, there usually are three longitudinal yellow lines running the length of the body and the extra appendages have a yellow subapical band. This coloration may be strong and vivid in some specimens, while faded or lacking almost entirely in others. For those interested in the egg mass.
Collected as far south as San Diego, and north to Alaska, it feeds on the entoproct, Barentsia.
---

Photos courtesy of Bruce Wight and Cindy Copperthite of Laguna Beach, Calif: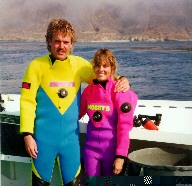 Bruce and Cindy are both engineers for Boeing Co. in Seal Beach, Calif.
In their spare time they are avid divers with a particular interest in nudibranchs.
They enjoy photographing branchs in local waters and sharing them with
other members of the San Diego Underwater Photographic Society.


Send Bruce mail at bcwight@co.bna.boeing.com
---
Taxonomic information courtesy of: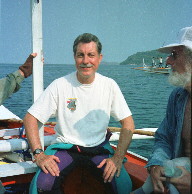 David W. Behrens
Author: Pacific Coast Nudibranchs
Co-Author Coral Reef Animals of the Indo Pacific
Propriator of Sea Challengers Natural History Books

Send Dave mail at seachalleng@earthlink.net

---
© The Slug Site, Michael D. Miller 1999. All Rights Reserved.

---