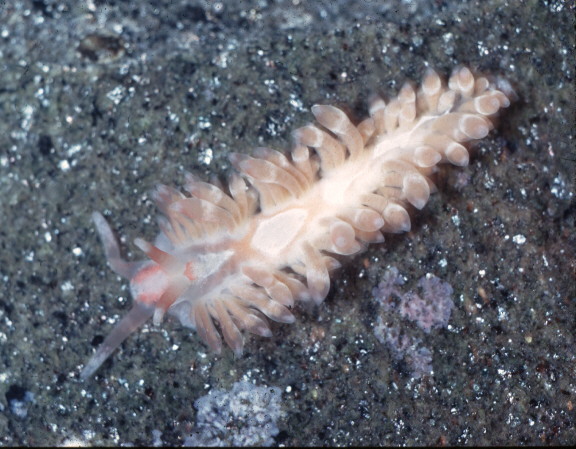 Aeolidiella indica
---
Aeolidiella indica (Berg, 1888)
This species was first observed in the eastern Pacific on boat docks at Mission Bay, San Diego, California, November 11, 1967. More than 100 individuals and their nidosomes were present. Distribution was highly localized. The species persisted on or near the same site for about two years with another "bloom" occurring on October 7, 1969. Seven individuals were observed September 20, 1970, the last of the species to be found at its place of introduction. It should be noted that Aeolidiella takanoaimensis (synonym, Baba, 1930) , now A. indica, has been reported from the Panamic Faunal Province by Ferreira & Bertsch (1975). For those of you interested in the egg mass.
---
Images and Text courtesy of:
Jim Lance
746 Agate St.
San Diego, CA 92109
---
Ferreira. Antonio J., and Hans Bertsch 1975.
Anatomical and distributional observations of some opisthobranchs from the Panamic faunal province
The Veliger 17 (4): 323-330

On page 329 we write as Aeolidiella takanosimensis (one of the synonyms of Aeolidiella indica):

"...The common Japanese species, Aeolidiella takanosimensis, has also been reported from the Gulf of Napes in the Mediterranean (Schmekel, 1968: 122, 123) and in the eastern Pacific from Palos Verdes Peninsula to San Diego, California (Sphon, 1971a). It has not been reported previously from the tropical eastern Pacific.

On November 24, 1973, while diving 8-10 m deep from aboard the R/V Disappearance, at Bahia San Marte, Baja California del Sur, Edwin Janss, Jr. and Ferreira found 2 specimens of Aeolidiella takanosimensis underneath rocks. The identity of the specimens, each measuring about 40 mm in length, was not confirmed until the radulae were extracted and carefully examined.

A single radula had 32 teeth, with approximately 67 denticles per tooth. The lateral denticles, the largest measuring 45 microns by 8 microns, were 3-4 times longer than the medial denticles. The middle denticle was prominent among the other medians because of its greater length and width. This middle denticle measured 15 microns by 12 microns, while the other central cusps measured about 10 microns by 6 microns.

Baba (1930: 122) described the radula of his smaller, 17-30 mm long specimens as having the formula 16 (0.1.0), with 24-34 denticles on either side of the central spine. His specimens had less teeth than our specimens from the Gulf of California, but the number of denticles per tooth matches closely (49-69 in the Japanese specimens, 67 in the Panamic specimens), as does the overall shape of each tooth.

The external coloration and morphology of these Gulf of California specimens also fit the description given for Japanese specimens (Baba, 1949)..."
---
Text courtesy of Hans Bertsch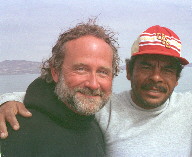 Dr. Hans Bertsch

Assoc. Prof.
Dept. of Math and Natural Sciences
National University
192 Imperial Beach Blvd. #A
Imperial Beach, CA 91932
FAX (619) 423-9118
Send Hans E-Mail at hansmarvida@cox.net

---
© The Slug Site, Michael D. Miller 1999. All Rights Reserved.

---