Archidoris montereyensis
San Miguel Island, California
Steve Gardner

Archidoris montereyensis
---
Archidoris montereyensis MacFarland, 1966

One of the largest cryptobranch dorids on the California coast, this yellow beast is quite similar to Anisodoris lentiginosa Millen, 1982 and Anisodoris nobilis (MacFarland, 1905), both which it co-occurs with. It differs in having seven yellow branchial plumes and light yellow ground color. The black spots on the notum extend from the dorsum to cover some of the tubercles. The pattern and number of black spots varies greatly between specimens, some having only a few to specimens where the mid-dorsal area is nearly solid.
This species averages about 44 mm in length but can reach 150 mm. It ranges from Kachemak Bay, Alaska to San Diego, California. It is named for its type locality, Monterey Bay, California.
Archidoris montereyensis preys on the encrusting sponges Haliclona and Halichondia. A recent study by Geiger and Holyoak indicates that this dorid unquestionably prefers shaded over lighted conditions, a tip the next time you are out searching for this guy.
---
Taxonomic information courtesy of: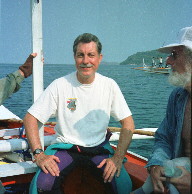 David W. Behrens
Author: Pacific Coast Nudibranchs
Co-Author Coral Reef Animals of the Indo Pacific
Propriator of Sea Challengers Natural History Books

Send Dave mail at seachalleng@earthlink.net

---
© The Slug Site, Michael D. Miller 1999. All Rights Reserved.

---