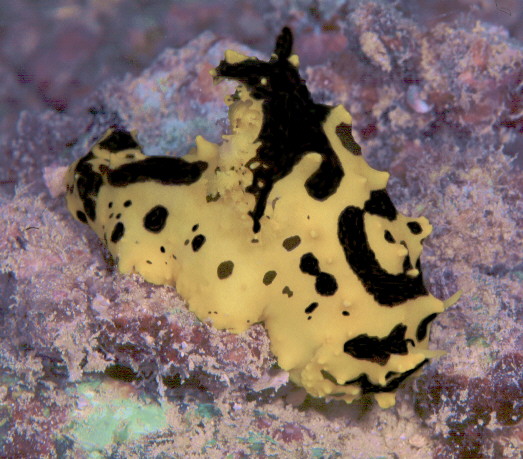 Notodoris gardineri
---
Notodoris gardineri Eliot, 1906

Described two years after its close sister species Notodoris minor (featured as Branch of the Week #83), N. gardineri is a similar large yellow firm bodied sponge eating phanerobranch dorid. It has variable black mottling rather than black lines and spots. The body has slightly larger tubercles than N. minor and the extra branchial appendages are more finely branched.
Like N. minor is reaches more than 100 mm in length. Its large egg mass is also yellow in color. It is also found on reef crests and slopes to 20 m deep, where it feeds on the yellow calcareous sponge, Leucetta chagosensis Dendy, 1913 (see Coral Reef Animals of the Indo-Pacific, page 16, sp. # 3).
Not as widely distributed as N. minor, it has been observed from Maldives; Australia; New Guinea; Indonesia and Okinawa.
---

Photo courtesy of Mary Jane Adams of Arcadia, California: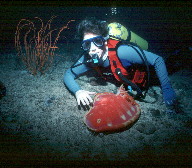 On a cruise around Kavieng Island in northern Papua New Guinea, we had anchored for the night on an uninspiring sand and rubble patch. After four long day dives and a big dinner, I could barely muster the energy to suit up. I poked around in the muck for nearly an hour without finding much, and then I spotted a pair of nudibranchs that had been on my wish list for a long time. Notodoris gardineri looks similar to the more common Notodoris minor, but has distinctly more black markings. It was feeding on a sponge when my dive light first picked it up. The other specimen had even more black on it.

The picture at left of Mary was taken with a 44 cm long Spanish Dancer at Beqa Lagoon, Vitu Levu, Fiji. This nudibranch, accompanied by a slighly smaller one, were regulary seen grazing between two particular bommies.

Send Mary Jane mail at mjadams@earthlink
---
Taxonomic information courtesy of: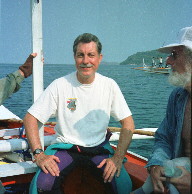 David W. Behrens
Author: Pacific Coast Nudibranchs
Co-Author Coral Reef Animals of the Indo Pacific
Propriator of Sea Challengers Natural History Books

Send Dave mail at seachalleng@earthlink.net

---
© The Slug Site, Michael D. Miller 1999. All Rights Reserved.

---