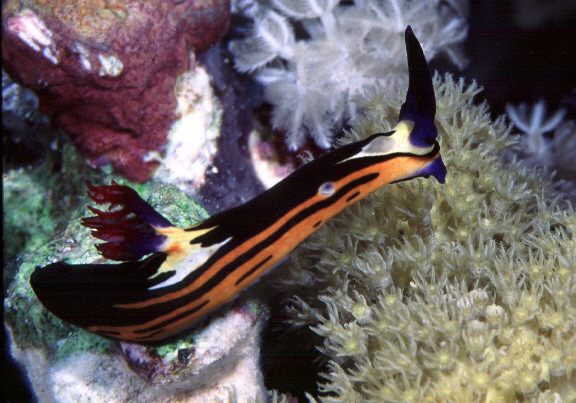 Nembrotha megalocera
---
Nembrotha megalocera Yonow, 1990

This beautiful phanerobranch dorid was originally described by Natalie Yonow from the Red Sea. A member of the closely related Nembrotha lineolata "complex" it was more recently redescribed by Cervera, Garcia-Gomez and Megina (1990, Veliger 39(1): 55-59), providing a more detailed description of both the external and internal anatomy of this species. Aside from subtle internal differences, the species is differentiated from other species in the complex by a black dorsum, except for the head and gill area which are lemon yellow, and two pale grey areas situated behind the rhinophores. The flank of the the body is orange, turning white near the foot, the margin of which is bluish violet, as are the oral tentacles, base of the gills and rhinophores. The tips of the gills are red, and the rhinophores black. Two color photos are also featured in Nudibranchs and Sea Snails by Helmut Debelius, pg 180 (top).
This species is still known only fron the Red Sea, where is reaches 70 mm in length, and lives to depths of 20 m. Members of this genus typically feed on bryozoans and tunicates.
Mary Jane's story is real testimony to just how far our crazy colleagues will go for that perfect branch shot!.
---

Photo courtesy of Mary Jane Adams of Arcadia, California: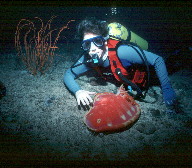 In 1995, I was on a dive boat which left from Massawa, Eritrea heading north in the Red Sea for Sha'ab Rumi Reef off the coast of Sudan. After cruising for two days, we anchored at Protector Reef off southern Sudan for an exploratory dive. It turned out to be a beautiful virgin coral reef. While swimming along the outside wall, I spotted this nudibranch (Nembrotha megalocera) crawling briskly over the coral. It made a very good photo subject as it stretched and posed in different positions. When it reached the coral polyps on the right side of this photo, it began slurping them up. The coral polyps all around it began to withdraw. Little did I know my diving was almost over for this trip.

The next day, after reaching Sha'ab Rumi, the boat was boarded by machine gun wielding Sudanese. After seizing our passports, the boat was escorted into Port Sudan. We were detained at the pier for three days until our skipper came up with enough money to pay the fine for numerous alleged offenses, including diving on Sudanese reefs without permission. It was one of my worst dive trips.

Send Mary Jane mail at mjadams@earthlink
---
Taxonomic information courtesy of:
---
© The Slug Site, Michael D. Miller 1999. All Rights Reserved.

---