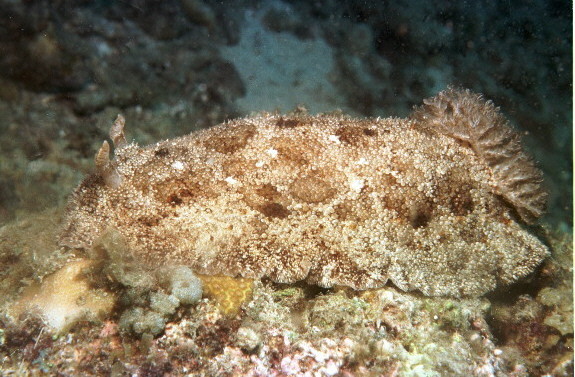 Sebadoris nubilosa
---
Sebadoris nubilosa Pease, 1871

Well where to I start, with the species description or the story? Oh well lets take care of business first. Sebadoris nubilosa is a magnificantly huge dorid. I'd love to show you the physical specimen, but it got lost! Who in the whole world could possibly lose a 4 inch long dorid? Ask the Webmaster (e-mail mdmiller@cts.com). The webmaster did redeem himself to some extent by taking the above photo before inadvertently returning the specimen to nature . Oh yes, as the reader may of guessed, I collected the only specimen during a night dive at Mactan Island, Cebu, Philippines. Another in a series of "lucky" finds!
| | |
| --- | --- |
| | Nora Ross of Tropical Island Adventures Diving Services Mactan Island, Cebu is shown holding Sebadoris nubilosa . |
Sort of the "Ugly duckling" of the cryptically colored crytobranch dorids, it seems to always lose out in those periodical photo spreads featuring their flamboyant Chromodorid cousins. The senior synonym to Sebadoris crosslandi (Eliot, 1903), it may reach 13 cm in length. The notum is covered with round tubercles. Variable patches of light and dark brown occur over the body surface, some concentrated, forming large spots, blotches and circles medially on the dorsum. This coloration makes it very cryptic on sand or coral rubble bottoms. This huge, difficult to lose, species ranges throughout the Indo-Pacific from the Red Sea to western and northern Australia and the Philippine Islands, where this specimen was found and lost.
---

Text courtesy of:
---
© The Slug Site, Michael D. Miller 1999. All Rights Reserved.

---