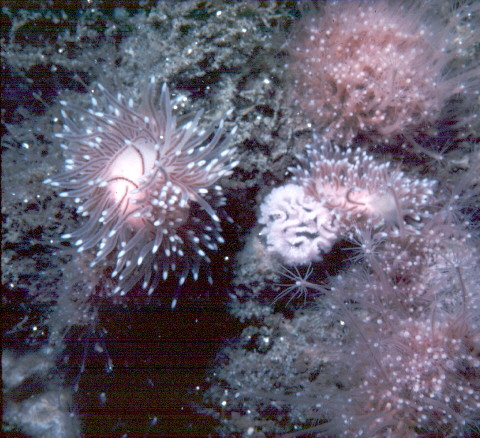 Cuthona divae
---
Cuthona divae Marcus, 1961
This pretty little eolid has smooth, tapered rhinophores. Several rows of the pinkish, white-tipped cerata occur anterior to the rhinophores. The body is light white to a faint pink. The long oral tentacles are cylindrical and tapered to blunt tips. Total length of the adults reach about 15-20 mm.
My photograph shows the basic natural history of this species. Its is often fund amidst its prey hydroid Hydractinia, which it resembles. The hydroid polyps grow from a yellowish basal mat, but their projecting light pinkish and white crowned polyps hide the camouflaged slug. The egg mass (illustrated here for the first time) is often the most conspicuous element of the nudibranch. Cuthona diva has been reported from Port Renfrew, Vancouver Island, British Columbia (by Sandra Millen) to Pt. Loma, California (by Jeff Hamann). When I was diving on the cliff face of La Jolla Shores, clumps of its colonial hydroid prey alert me to look more carefully for Cuthona divae. My data are being analyzed for the probable seasonal occurrence and annual life cycle of this species.
During the early 1960s, two seminal publications helped revitalize studies of opisthobranch mollusks on the Pacific coast of the U.S. These were "Opisthobranch Mollusks from California," by Ernst Marcus (1961 Supplement to the Veliger), and "Studies of Opisthobranchiate mollusks of the Pacific coast of North America," Frank Mace MacFarland's monograph published by the California Academy of Sciences. The species Cuthona divae was named in the Marcus paper, in honor of the Brazilian biologist Dr. Diva Diniz Correa, who collected nudibranchs in California during the summer of 1958 while she was on a John Simon Guggenheim Memorial Foundation Fellowship.
---
Text and photo courtesy of:
---
© The Slug Site, Michael D. Miller 1997. All Rights Reserved.






---