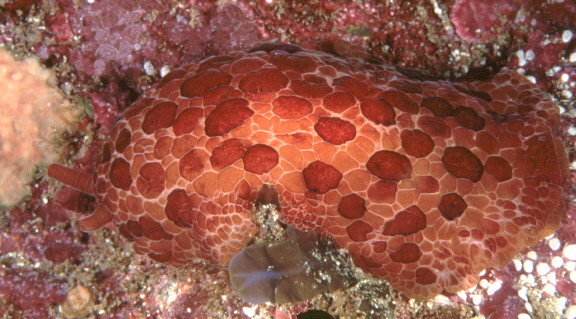 Pleurobranchus sp. unidentified
---
Pleurobranchus sp. unidentified
A new species of pleurobranch has been collected off the outer coast of Baja California. Several large specimens of an animal somewhat similar in appearance of Pleurobranchus areolatus were photographed by Eric Haucke of Santa Cruz, California, while diving at San Benitos Island in August 1996. While the specimens were brown in color with the characteristic large notal tubercles, they differ from P. areolatus in that the tubercles are low, smooth and rounded, not tall and pointed. The color pattern differs slightly with the largest tuberacles being darker brown than the smaller ones. The specimens photographed do not have the uniform white speckling or encrustation typical for P. areolatus.
---

The above information courtesy of:
David W. Behrens
Author: Pacific Coast Nudibranchs
Co-Author Coral Reef Animals of the Indo Pacific
Send Dave mail at dwb1@pge.com

---
Eric Haucke is thirty eight years old and has been obsessed with u/w photography since 1990. He first became interested in taking pictures at age 12 in astrophotography. By age 14 he had built his first darkroom and a home made enlarger.

Eric started diving in San Diego and was a member of the San Diego Underwater Photographic Society. He presently shoots with a Nikon N90s in a Tussey housing or a Nikonos V. He uses Ikelite strobes, or a Nikon SB-25 in a Tussey housing. Eric moved to Santa Cruz in September 96 to be coloser to whom he calles "whitey" (fortunately "whitey" is elusive!) and is now an MPUP (Monterey Peninsula Underwater Photographers' Society member). Eric prefers diving Point Lobos or the Channel Islands. But dives warm water enthusiastically, including Borneo and New Guinea. This year he won 1st. place and two second place finishes in the EPIC International U/W photo competition., which previously had never been done. He also consults on he side teaching photography and u/w photography.

Send Eric mail at Leco@aol.com
---
© The Slug Site, Michael D. Miller 1997. All Rights Reserved.




---