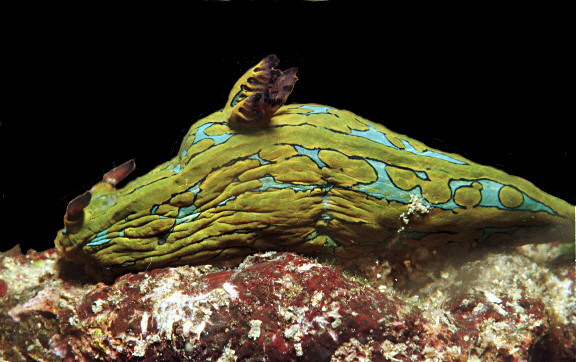 Tambja abdere
---
Tambja abdere Farmer, 1978

The 1 April 1978 issue of THE VELIGER contained several articles of interest to nudibranch afficionados. There was my second eastern Pacific Chromodoridid paper (in which I named Chromodoris galexorum), Forrest and Leroy Poorman's paper on Bahia de los Angeles, and Wes Farmer's paper on Tambja and Roboastra from the Gulf of California.
The first two species named by Wes Farmer (T. abdere and T. fusca) have caused consternation among nudibranch collectors. Differences between the two species have been confused. Dr. Gosliner and I have looked at the radulae of the holotypes and found absolutely no distinguishing characteristics. For the purposes of this field identification description, they will be considered one species, which exhibits an appropriate range of intraspecific color morphology and variation.
The basic body coloration is greenish, with mottled patches of yellowish and bluish ochre splattered throughout. The gills and rhinophores are dark blue-black.
Healthy adult animals reach 30-80 mm in total length. They are especially abundant in water-swept regions on which grow their favorite prey, erect, branching bryozoans. In Bahia de los Angeles, Tambja abdere are abundant on offshore island sites where these conditions exist.
---

Text courtesy of: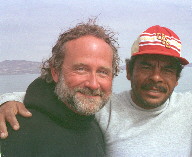 Dr. Hans Bertsch

Assoc. Prof.
Dept. of Math and Natural Sciences
National University
192 Imperial Beach Blvd. #A
Imperial Beach, CA 91932
FAX (619) 423-9118
Send Hans E-Mail at hansmarvida@cox.net

---
© The Slug Site, Michael D. Miller 1995, 1996, 1997,1998, 1999. All Rights Reserved.






---