---
Nembrotha mullineri Gosliner and Behrens 1997
Nembrotha mullineri is a "hot off the press", newly described species (Gosliner & Behrens, 1997, Cal Acad. Proc. Vol. 49. No. 9). It is named in recognition of an old, dear friend and enthusiastic brancher, Dave Mulliner from San Diego, who also collected some of the first specimens of this large Philippine species.
This species is distinctive as it is the only member of the genus with a cream colored body with brown spots and blotches, and because of its very large branchial plume, which in some specimens has been observed to be half a body length in diameter. The degree of brown coloration is quite varible from specimen to specimen, varying from a simple series of spots and lines to dense patches of brown. The rhinophores and gills are dark brown. There are scattered, low, pointed tubercles situated between creases in the brown areas, on the body surface. This species may reach 100 mm in length.
Known for some years, it has been observed in 24-70 feet of water, but only from Batangas Province, Luzon, Philippines. Little is known about its associations with any specific prey, however one specimen was observed on an unidentified arborescent bryozoan.
---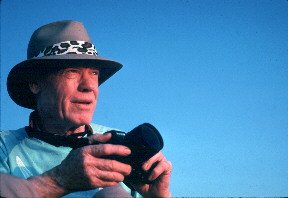 David Mulliner is a true legend. He was Sea Hunt before Lloyd Bridges. Seriously, he has been diving and studying marine life in San Diego and Baja California for decades. Founding president of the Western Society of Malacologists (WSM) and reelected president twenty five years later, Dave is well known in the shell world. He has also pioneered close-up microphotography, and is the staff photographer for the San Diego Shell Club's publication, The Festivus. His charming smile and welcoming embrace have encouraged many neophytes into studying nudibranchs and other molluscs. Dave has generously supplied specimens to many scientists. He continues to share his expertise, knowledge and photographs with all who share his love of the sea and its mollusc community.
---
Taxonomic information courtesy of:
---
© The Slug Site, Michael D. Miller 1995,1996, 1997, 1998, 1999. All Rights Reserved.




---