TITLE>Nudibranch of the Week is Dermatobranchus ornatus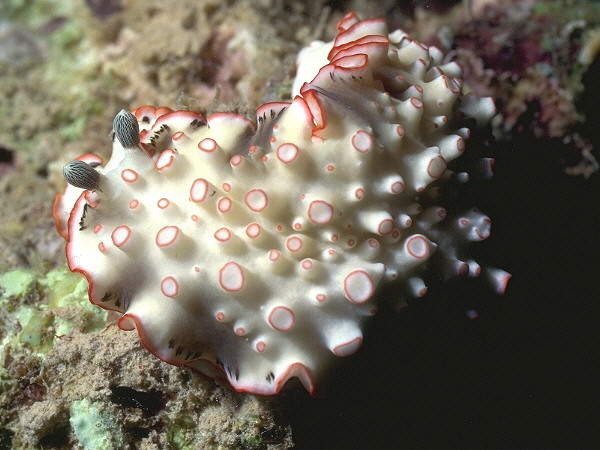 Dermatobranchus ornatus
---
Dermatobranchus ornatus Bergh, 1874


The above photo was submitted by Wolfgang Seifarth of Heidelberg, Germany. The animal was discovered during a night dive in the Red Sea area in a substrate of broken stone corals at a depth of approximately 8 meters. Wolfgang is a dedicated nudibranch enthusiast and has even set up his own slug site at The German Slug Site.

Be sure and visit Wolfgang's site!
---

Text and photo courtesy of:


Wolfgang Seifarth
Biologist, Postdoc
Faculty of Clinical Sciences at the University of Heidelberg, Germany
Molecular Genetics and Cancer Research
Send Wolfgang e-mail at seifarth@rummelplatz.uni-mannheim.de

---
For those of you interested in the photographic background information of the images, the following may be of interest!
---
Camera System: Nikonos RS/50mm Macro

Strobe: YS50 TTL

Film: Kodak Elite 100

Site: Port Safaga, Red Sea

Photo Editing: PhotoStyler 2.0/Kodak Photo CD
---
© The Slug Site, Michael D. Miller 1999. All Rights Reserved.




---