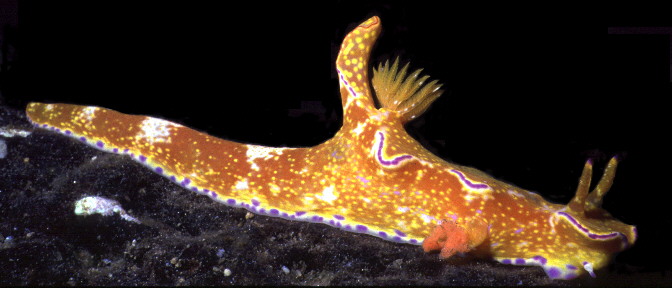 © Heidrun Faulconer, All Rights Reserved 1996
Ceratosoma tenue
---
Ceratosoma tenue, Abraham 1876
Ceratosoma tenue was described by Abraham in 1876. It is known from the Red Sea, Tanzania, Norfolk Island, Australia, New Caledonia, Indonesia, Philippines and Hawaii. It can be distinguished from other closely related species by its narrow body form and interupted mantle margin.
The Webmaster would like to thank Heidrun Faulconer of the San Diego UPS for making this image available to the Slug Site. Picture was taken at Milne Bay, Papua New Guinea in 1991.
---

The above information courtesy of:

---
© The Slug Site, Michael D. Miller 1998. All Rights Reserved.






---