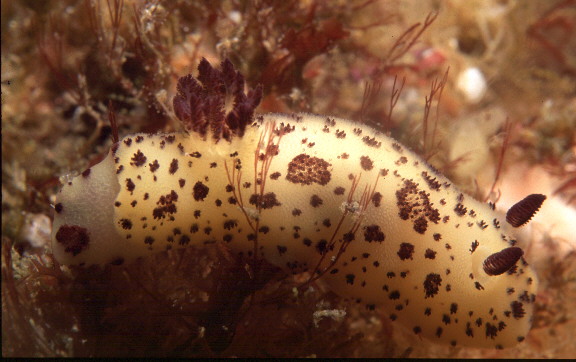 Jorunna pardus
---
Jorunna pardus, Behrens & Henderson, 1981
Specifically named "pardus" for its leopard spots, this dorid is easily recognized by its purple to black gills, rhinophores, and the brown to black pigment concentrated into leopard-like spots over the highly papillated dorsal surface. The papillae are caryophyllidic, ie, having spicules protruding from their tips. This gives this species a tough, abrasive feel. The choice of the name "pardus" was also made because the type locality of the species is Cat Rock, Anacapa Island in the California Channel Islands.
A similar spotted, undescribed species, Peltodoris sp. (Behrens, 1990, species # 124) can be differentiated by its yellow gills and rhinophores.
Jorunna may reach 60mm in length, and ranges from the Channel Islands, Palos Verdes, California to Sacramento Reef, Baja California, Mexico.
---

The above information courtesy of:

---
© The Slug Site, Michael D. Miller 1998. All Rights Reserved.






---